I am a third generation Arizonian. When I was born in Tucson in 1961, the population of Phoenix was 440,000. Today there are over 4.3 million in metro Phoenix making us the 13th largest metropolitan area in the US (see Top 13 areas below). Growth is expected to continue like crazy and by 2050, we should have over 7,000,000 people (see projections below). BUT that is NOTHING compared to the world's top Megacities. Check out the graph at the bottom. Megacities are citites of over 10 million people (the US only has two—NYC and LA). The smallest of these is 12 million people…Phoenix will not get there for another 50 years. Crazy big.
 
Enjoy the stats and graphs.
Craig
602.954.3762
ccoppola@leearizona.com
---
Population Projections of Maricopa County
2000 to 2050
Population 10-Year Change
2000: 2,954,832
2010: 3,710,756
2020: 4,516,806
2030: 5,391,875
2040: 6,296,905
2050: 7,265,969
Source: Arizona Department of Economic Security.
Top Metropolitan Areas
The largest metropolitan areas in the U.S. ranked by population:
Updated: March 2013
| | | | | | |
| --- | --- | --- | --- | --- | --- |
| Rank | Population 2012 | Population 2011 | Annual Change | Percentage Change | Metro Area                                                    |
| 1 | 19,831,858 | 19,729,930 | 101,928 | 0.5 | New York-Newark-Jersey City, NY-NJ-PA |
| 2 | 13,052,921 | 12,945,140 | 107,781 | 0.8 | Los Angeles-Long Beach-Anaheim, CA |
| 3 | 9,522,434 | 9,495,719 | 26,715 | 0.3 | Chicago-Naperville-Elgin, IL-IN-WI |
| 4 | 6,700,991 | 6,569,112 | 131,879 | 2.0 | Dallas-Fort Worth-Arlington, TX |
| 5 | 6,177,035 | 6,051,850 | 125,185 | 2.1 | Houston-The Woodlands-Sugar Land, TX |
| 6 | 6,018,800 | 5,997,474 | 21,326 | 0.4 | Philadelphia-Camden-Wilmington, PA-NJ-DE-MD |
| 7 | 5,860,342 | 5,771,213 | 89,129 | 1.5 | Washington-Arlington-Alexandria, DC-VA-MD-WV |
| 8 | 5,762,717 | 5,687,908 | 74,809 | 1.3 | Miami-Fort Lauderdale-West Palm Beach, FL |
| 9 | 5,457,831 | 5,374,678 | 83,153 | 1.5 | Atlanta-Sandy Springs-Roswell, GA |
| 10 | 4,640,802 | 4,603,344 | 37,458 | 0.8 | Boston-Cambridge-Newton, MA-NH |
| 11 | 4,455,560 | 4,396,918 | 58,642 | 1.3 | San Francisco-Oakland-Hayward, CA |
| 12 | 4,350,096 | 4,301,841 | 48,255 | 1.1 | Riverside-San Bernardino-Ontario, CA |
| 13 | 4,329,534 | 4,252,078 | 77,456 | 1.8 | Phoenix-Mesa-Scottsdale, AZ |
Source: U.S. Bureau of Census (March 2013)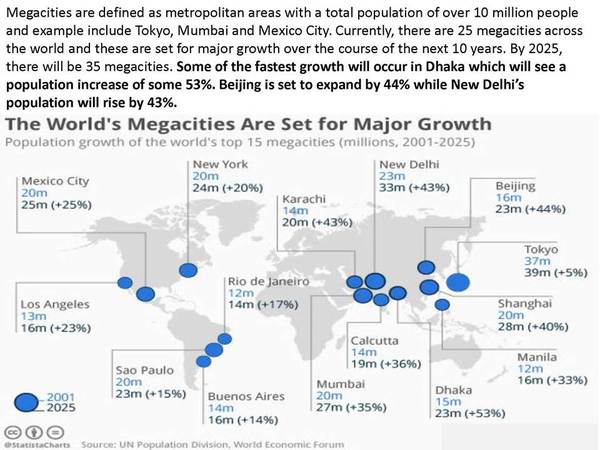 Source: http://www.statista.com/chart/1826/population-growth-in-the-worlds-megacities/