Last week started our five week review of new corporate headquarters with a review of Facebook's billion dollar investment. Today, we move north to Seattle and Amazon. Can you believe Amazon has spent $1.4 BILLION in just the past 12 months on building a headquarters they are now calling a company town? Facebook wanted a low rise, garden feeling while Amazon is going with spheres and towers. Amazon already occupies 14 buildings in this market and is now building an additional 3 towers connected by really different looking spheres. Upon completion, the capacity will be up to 60,000 employees. This reminds me of Biosphere2 built near my birthplace of Tucson, Arizona (check it out here: http://b2science.org/).
Amazon is not starting over, in fact they are building these spheres and new towers in the middle of the city. Talk about changing the look of the South Lake Union area of Seattle. My only thought was spending over a billion dollars when Amazon has yet to turn a profit….sounds pretty rich.
Next week we will look at Google's massive plans. These tech companies keep on spending and spending.
Craig
602.954.3762
ccoppola@leearizona.com
Amazon Spent $1.4 Billion in the Past 12 Months to Build a Company Town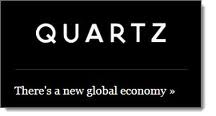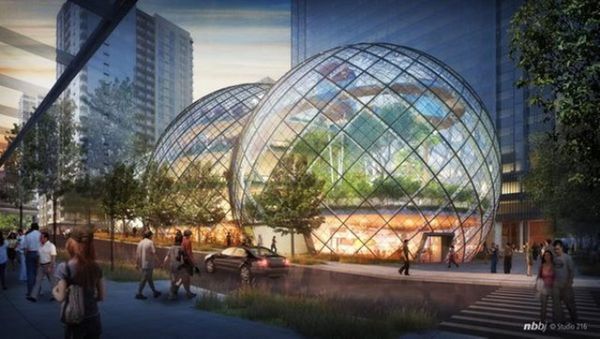 By: Christopher Mims
October 24, 2013
Amazon's new corporate headquarters will be an Elysian utopia where nobody ever grows old or feels sad. NBBJ
Like Facebook, Amazon is building a city within a city, a glistening, utopian corporate campus in an area of Seattle known as South Lake Union that was once just dingy warehouses. And thanks to an item in Amazon's latest quarterly report, we now know how much the company spent on the project on property and construction (which has barely begun) in the past 12 months alone: $1.4 billion…
Amazon can afford that kind of outlay since the company is doing so well; it just beat the street's expectations for revenue, earning $17.09 billion in the previous quarter, a 24% increase since last year. As per Amazon's usual strategy to get big before bothering to make money, the company had a negative profit this quarter—a $41 million net loss.
Amazon has about 15,000 employees in Seattle, mostly engineers tasked with building and tending its massive IT infrastructure, which it also rents out to countless other internet companies. Amazon is apparently determined to build a campus that encourages its employees to live close to work and bike or walk as much as possible. The scale of its investments in the area suggests that, as Boeing decamps from the greater Seattle area, the city is about to become a new kind of company town.
As Amazon Stretches, Seattle's Downtown Is Reshaped

By: Kirk Johnson and Nick Wingfield
August 25, 2013
SEATTLE — Often a corporation with a grand dream to reshape a city wants tax breaks in return. Not Amazon.
When Amazon executives showed up last year for the first meetings about their proposal to build a new headquarters here — three towers that would draw thousands of workers downtown — city officials were taken aback. Not by the scope of the plan, but by the simplicity of the discussion. The executives said they were ready to break ground immediately on what would be one of the biggest development projects in city history.

The New York Times
Other businesses are moving near the new Amazon offices.
"It was not a hard-boiled negotiation," said Marshall Foster, the director of city planning. "They basically walked in and said, 'We think this is the site.' " A shovel-ready company that clear and confident, and with the cash to back it up, "doesn't happen very often," Mr. Foster added.
Jeffrey P. Bezos, Amazon's founder and chief executive, has a reputation for the grand gesture, a knack for seizing an opportunity that can remake a landscape. His purchase of The Washington Post this month for $250 million cash, a bet that others might have shied away from, is a case in point.
Here, in his company's hometown, Mr. Bezos has put his chips on the idea of Seattle and urban America itself. The first headquarters tower is already under construction, and the company currently occupies 14 smaller buildings nearby.
The result in South Lake Union, previously a low-rise, low-rent warehouse district with ties to the city's gritty maritime past, is a flood of cash, construction detours and dust. Increases to the city's tax base aside, some people are apprehensive about whether the growth could outstrip the city's ability to keep up.
"South Lake Union was a place that people drove through, not to," John Schoettler, Amazon's director of global real estate and facilities, said in an interview. "Once we started development there, everything started to spring up around us."
The once-empty streets are flooded at lunchtime with Amazon workers, easily identified by their blue employee badges. Fleets of food trucks have arrived, offering Thai, tacos and other fare. On a nice day, workers take their lunches to a park next to the Museum of History and Industry, which was recently renovated with a $10 million contribution from Mr. Bezos.
The company already has about 15,000 employees in Seattle, mostly highly paid engineers, managers and programmers, out of a global work force of about 97,000, according to people familiar with its head count who were not authorized to discuss a figure that the company does not share publicly. The new towers have a capacity for 12,000, giving the company room for nearly 30,000 workers in Seattle, which has a population of 635,000.
"Nobody else in the downtown area has ever had this kind of impact," said Matt Griffin, a 35-year veteran of the Seattle economic scene and the managing partner at the Pine Street Group, a real estate marketing and development company.
But the Amazon effect only starts with its own big numbers. The thousands of new employees, recently hired or anticipated, have also caught the attention of apartment developers. Last year, Seattle issued more new residential building permits than in any year since at least 1984, when the current system of record-keeping began.
Many of those new apartments are within walking or biking distance of Amazon. Service businesses and start-up technology companies, meanwhile, have sought nearby addresses. Northeastern University, based in Boston, set up a remote campus last year across the street from Amazon's current buildings.
"I think they've single-handedly defined a whole region," said Bryan Trussel, the chief executive of Glympse, an Internet start-up with offices next to Amazon. "Now everyone wants to be there."
The setting is significant. In casting its lot in the center of a congested, bustling city, Amazon has rejected the old model of the suburban company campus that is typical of Silicon Valley and the technology ring road around Boston. The old way is perhaps most vividly exemplified by Microsoft. Its offices, and most of its 42,000 local employees, are about 18 miles from downtown Seattle, in the suburb of Redmond.
But it was, perhaps paradoxically, Microsoft money that made Amazon's torrid growth in the neighborhood possible. In the early 1990s, Paul Allen, Microsoft's billionaire co-founder, agreed to help finance the creation of a 61-acre public park starting in South Lake Union, a project that was eventually killed by voters. As a result, Mr. Allen's investment firm, Vulcan, ended up being a big landowner in the area, eventually selling or leasing many of its buildings to Amazon.
Other technology companies are moving into urban spaces. Twitter and Dropbox, the social networking and online storage services, have made San Francisco home, while Tumblr and Etsy, blogging and shopping sites, are in New York. Google has huge urban spaces from Paris to Pittsburgh.
The appeal of cities to potential employees is part of the reason for the shift. An urban setting, with access to good restaurants, nightclubs and cultural attractions, has become as important a recruiting tool as salary or benefits for many companies.
But most of those urban pioneers are still small, at least in their real estate and staffing needs. Twitter, one of the largest, employs about 1,500 workers in San Francisco.
Amazon, by contrast, is both local and global. By encouraging its employees to live within walking distance, it could help Seattle meet its goals for energy efficiency and conservation, city officials said. As part of its development agreement, Amazon also plans to buy a new streetcar for the light rail line that runs past its properties and pay for a stretch of dedicated bicycle lane.
Mr. Schoettler, Amazon's real estate director, said environmental considerations were an important factor in the company's decision to remain in Seattle, along with the type of employee that an urban location attracts.
"The energy and excitement from employees being in an urban environment — I hear it daily," said Mr. Schoettler, who walks to work. "A lot of people don't even have a car. They want that urban experience right there."
By contrast, Microsoft's private bus line, called the Connector, is a common sight snaking through neighborhoods in Seattle and other local communities. Of the company's 42,012 employees in the Puget Sound region, nearly half are registered to ride, a spokeswoman for the company said in an e-mail.
Amazon's transformative rush presents challenges for Seattle. Officials must manage the de facto city-within-a-city that is emerging around the company, with a surge of new restaurants, apartment complexes and commercial buildings.
The new headquarters has limited parking, putting pressure on mass transit, which was crimped this year by a financing stalemate in the State Legislature. The city wants low-cost housing in the Amazon zone, but soaring rents and real estate prices, city officials said, will make that goal difficult to achieve. The company's business model, and tactics in avoiding state sales taxes in many states, also presents a challenge to retailers.
And the company's mostly young work force may want to raise children here, requiring a new public school where none exist. The city has allocated $5 million for an elementary school, but planners are wrestling with a chicken-or-egg dilemma. A school built now could sit empty, they said, but waiting until the need arises might be too late if young families start moving elsewhere.
"As the city grows — and again, it's a good problem to have, one that other cities don't — we have to keep investing in all of our places," Mayor Mike McGinn said. "How do we make sure we preserve the things that make the city special?"
Amazon Builds the Spheres,
While Google Opts for the Hulk

By: Kara Swisher
October 26, 2013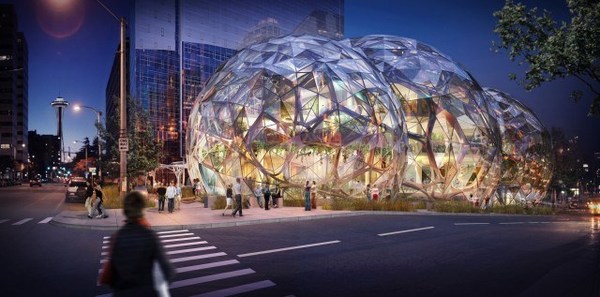 Image of Amazon offices rendering courtesy of NBBJ
As with Apple, Facebook, Samsung and many other tech companies, Amazon and Google are in the analog building business of late.
According to the Seattle Times, the e-commerce giant had its plan for a "five-story office building formed by three intersecting spheres" unanimously thumbs-upped by that city's design-review board.
There are still other approvals to go, as well as building permits, for the structure in downtown Seattle by architect NBBJ, part of a larger 3.3 million square-foot campus.
Noted the Times: "The spheres still would range in height from 80 feet to 95 feet and feature a mix of flex work space and an atrium of plants and trees. The area between the spheres and a 38-story office tower would still include a dog park, a walkway and an open field."
Perhaps more intriguingly, Google is apparently working on a floating data center that CNET is describing as "hulking."
Wrote CNET: "It's unclear what's inside the structure, which stands about four stories high and was made with a series of modern cargo containers … One expert who was shown pictures of the structure thinks so, especially because being on a barge provides easy access to a source of cooling, as well as an inexpensive source of power — the sea. And even more tellingly, Google was granted a patent in 2009 for a floating data center, and putting data centers inside shipping containers is already a well-established practice."
And, of course, since it's Google, it's hiding in plain site in the middle of the San Francisco Bay.
Google also has a big HQ project going with NBBJ, which is also the architect behind the new Samsung North America campus in Silicon Valley and Tencent's new digs in China.
Facebook, too, has ambitious plans to expand its campus. And, of course, Apple has already got the go-ahead for its Apple Campus 2 project, a 2.8-million-square-foot structure of curved glass, concrete and steel nicknamed the "Spaceship."