Continuing our tour of billion dollar plus new headquarters, we turn to Google. Google is planning on building nine buildings with the now familiar pedestrian and bicycle friendly environments. When completed, this 1.1 million square foot project in Mountain View, CA, will be comprised of nine fairly traditional buildings connected by "messy" courtyards. Below is a bunch of renderings that may change, as you will see in the article. Google is rethinking the look of the buildings, probably to keep up with the Apples, Amazons, and Facebooks of the world.
Here are some highlights:
–The bike and pedestrian paths will be elevated above everything—3 stories above the courtyards.
–The site sits on 42 acres.
–The buildings are only 78 feet wide. That is very narrow and will provide a ton of light into the space (and make the buildings longer).
–Of course, they are trying to outdo all other companies with the environmental modifications.
Scrolling down you get a bonus: Google's new UK headquarters.  Pretty cool,  AND EXPENSIVE.  Why did I include it? Well, they are spending over a billion dollars on that facility as well. Part of the reason why is because their profits would be taxed if they brought the money back to the US.
–The site is ONLY 2.5 acres.
–The buildings will be able to handle only 4,000 employees.
–It will include an open air swimming pool and an indoor football pitch (getting into the slang of Brits).
A billion here, a billion there. Pretty soon it will add up.
Next week we turn to the most reasonable of all our headquarters: Samsung North American Headquarters.
Craig
602.954.3762
ccoppola@leearizona.com
Google's New Campus Has Light, Fresh Air, Low Power Use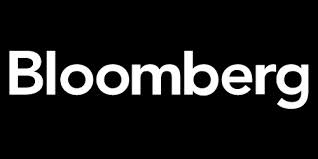 By: James S. Russell
April 23, 2013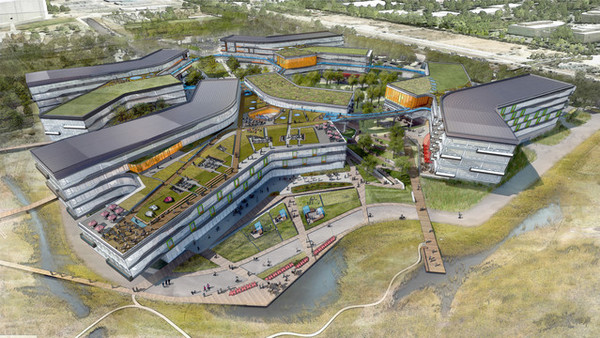 Source: NBBJ/Google via Bloomberg
An architectural rendering of the new Google headquarters campus under construction in Mountain View, California. Architect NBBJ links the nine buildings with raised pedestrian and bicycle bridges that cross landscaped courtyards and restored salt marshes.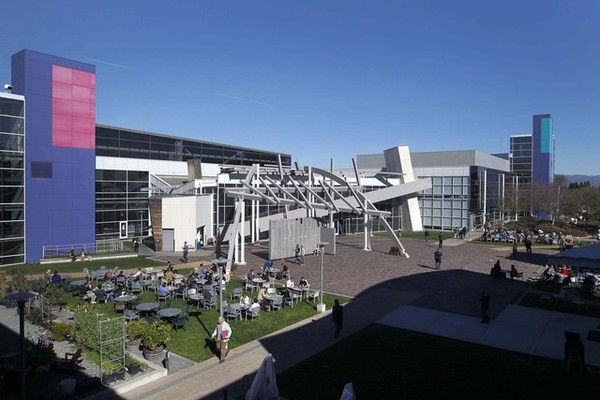 Photographer: Tony Avelar/Bloomberg
Google Inc.'s current headquarters in Mountain View California, which was originally designed by Studios Architecture for Silicon Graphics, Inc. The company will now build a new 1.1-million square foot headquarters to be designed by NBBJ architects on a nearby site that faces San Francisco Bay.
Google Inc. (GOOG) has begun construction of a new 1.1-million-square-foot headquarters that is just minutes by bicycle from its current Googleplex in Mountain View, California.
It's the first time the company is building offices for itself rather than occupying an existing structure, and Google has promised to break new ground in environmental sustainability.
The goal of the complex is "to provide the healthiest environment possible," said David Bennett, head of Google's Green Team Operations and Innovations, in an interview.
The proposed campus of boomerang-shaped structures will occupy a 42-acre site called Bay View.
The design is by NBBJ of Seattle, a prolific but not notably innovative firm.
It has produced 9 ordinary-looking, glass-clad buildings of three-to-five stories. They snuggle around a network of intimate but messily arranged courtyards.
Though the buildings seem to wander aimlessly, their narrow ends face west and east to minimize heat and glare from the morning and afternoon sun.
Google hopes staffers will hatch new ideas while communing with elements of native habitat reintroduced by local landscape architect Cheryl Barton. She will also restore eight acres of bayside salt marshes that Google will open to the public.
The company has said it will clean all of its storm-water runoff as well as some waste water before releasing it into the bay. It's a low-lying location. I hope they are thinking about rising sea levels.
Light Bath
Standard technology buildings are thick and square, herding engineers together in dispiriting rows far from windows. NBBJ shaped long buildings only 78 feet wide.
The narrow floor plan means that pool tables, couches, huddle rooms — even conventional desks — will be bathed in energy-saving daylight because windows will be so close for so many.
Natural light and fresh air are rare commodities in the tech workplace. Google will add these perks to the well-stocked cafeterias, game rooms and nap pods that make it a sought-after place to work.
Because the company encourages free-flowing collaboration and idea sharing, staffers will pedal or walk to gatherings across bridges that loop the campus three stories above the courtyards. The loops land at nodes that join buildings at their kinked hips.
They put almost everyone on the campus no more than one floor and 2.5 minutes' walk from anyone else.
Project Cost
NBBJ hasn't gracefully reconciled all of Google's aspirations. I fear GPS will be needed to navigate this well-meaning muddle.
Google won't disclose the project cost, but it's not the heroic $5 billion high-tech palace Apple is building in nearby Cupertino.
So how green is Google? It's worth comparing to the $18.5 million Bullitt Foundation, which opened its doors on Earth Day, April 22, in Seattle. The foundation, devoted to making the Pacific Northwest into a global model of environmental sustainability, got its diminutive 50,000-square-foot building off the electrical and sewer grid.
It follows the demanding ecological principals of the Living Building Challenge.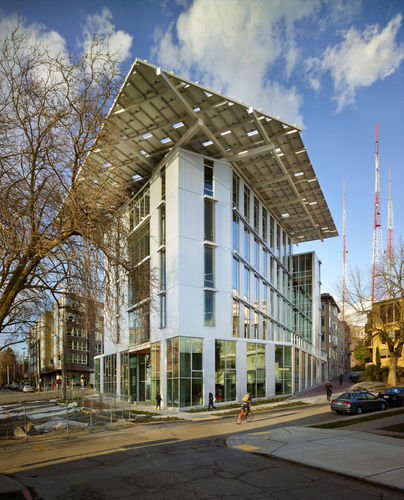 Photographer: Ben Benschneider/Bullitt Foundation
The Bullitt Foundation headquarters, a 50,000 square foot building devoted to environmental sustainability, in Seattle. Designed by architect Miller Hulll, the broad overhanging roof hosts solar panels.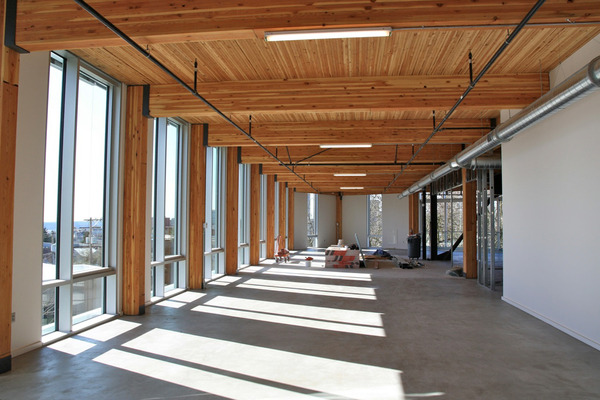 Photographer: James S. Russell/Bloomberg
A space inside the Bullitt Foundation headquarters in Seattle. The building confers environmental benefits with heavy timber framing that sequesters carbon, triple-glazed energy-saving windows, and high ceilings that allow daylight to replace electric lights on most days.
Energy Use
Architect Miller Hull, working with PAE Consulting Engineers, achieved a startlingly low 16 for Energy Use Intensity (a common measure of efficiency). The broad overhanging roof, crammed with solar panels, doesn't generate much power in cloudy Seattle, so energy conservation does the hard work.
Google's headquarters plans to have solar-panel arrays but expects an EUI of 62, partly because of its heavy use of computers. That's still half the average for its current buildings.
A low-energy heating and cooling system will allow Google to supply 100 percent fresh air economically. (Most buildings introduce only a small percentage of fresh air.)
The focus on air quality goes with Google's ambitious Healthy Materials Program. The company seeks to eliminate potentially harmful chemicals in building materials. This is no easy feat, since product manufacturers do not like to disclose the ingredients they use.
While Bullitt also avoids questionable chemicals, Google, with its huge market power, can transform the way building-materials are made.
Composting Toilets
Bullitt uses composting toilets, which means it puts no waste into the city's sewage system. Google wasn't ready for that.
So which is better? Bullitt intended to pioneer, and to show what's possible. It's already changing the marketplace by inspiring green-innovation districts in Seattle and elsewhere.
Google's energy performance and commitment to workplace quality are impressive if not innovative. It's bringing to the mainstream what was thought barely achievable a few years ago.
Google Delays Construction Of Its Massive New Headquarters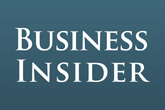 By: Jay Yarow
July 14, 2013
Google is delaying construction of a massive new Googleplex, George Avalos at Mercury News reports.
Previously, the company was said to be starting construction this year, with hope of moving people into the offices in 2015. The new headquarters is on land leased from NASA which is adjacent to its current offices in Mountain View.
Construction is being delayed by six to twelve months because Google wants to refine its design, Mountain View city manager Dan Rich said, "Google wants to refine the architectural design … they want to get it right. I was a little surprised when they told me, but they decided to take a step back … The delay has to do with the actual design of the project, the look and the exterior of the buildings."
The original design was comprised of a nine curved rectangular buildings. The design wasn't particularly awe-inspiring, but Google said no employee will be more than a two and half minute walk from another employee on the new campus.
A Google spokesperson confirmed the delay, saying, "We want to make our Bay View campus a terrific and environmentally sustainable place for Googlers to work… To make sure we get it right, we're being thoughtful in our design process."
Here's what the original design for the new campus looks like: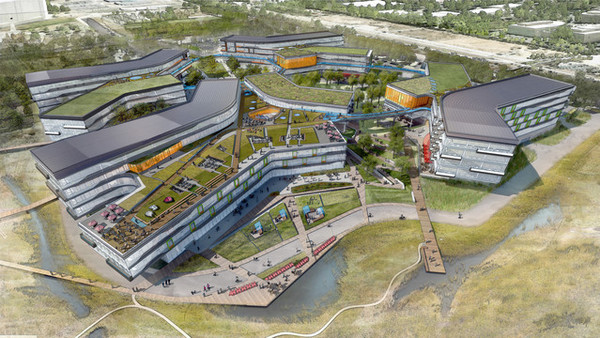 NBBJ
Inside Google's new 1-million-square-foot London office—three years before it's ready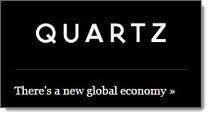 By: Leo Mirani
November 1, 2013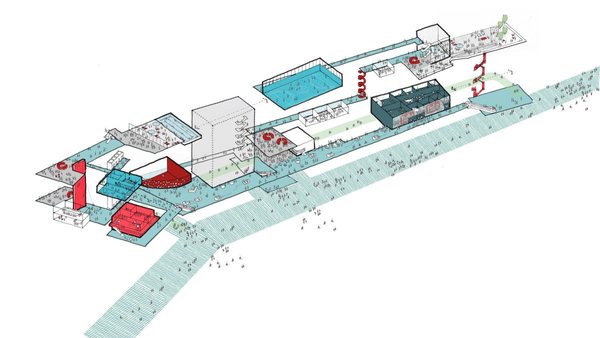 Google Kings Cross: As much a playground as a work space. Allford Hall Monaghan Morris
Google's new London office, scheduled to open in 2016, will have an open-air swimming pool, an indoor football pitch, a climbing wall and a roof garden from which to watch trains glide out of Kings Cross station towards Cambridge or Hogwarts. Googlers can cycle right into the building and to the cycle store room, which is equipped with showers and lockers. Somewhere in the interstices, there will also be desks to work on.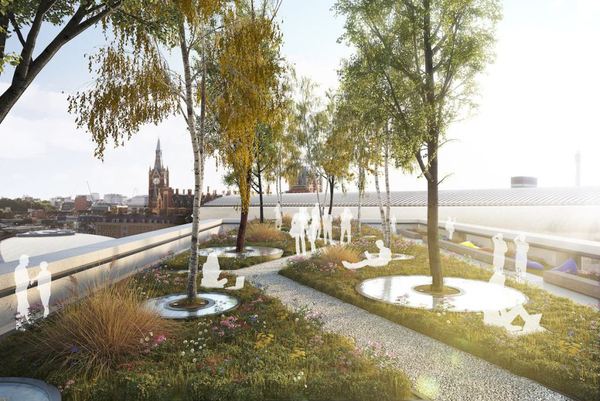 It's rarely this lovely in London, but the view of St Pancras is spectacular any time of year. INK/Allford Hall Monaghan Morris
The 1-million-sq-ft (93,000 sq m) office will sit on 2.4 acres (1 hectare) of land between Kings Cross and St Pancras stations.  When the deal was announced in January, it was one of the biggest ever commercial property acquisitions in Britain. Reuters reports Google will spend £650 million ($1.05 billion) to buy and develop the site, with an eventual worth of £1 billion.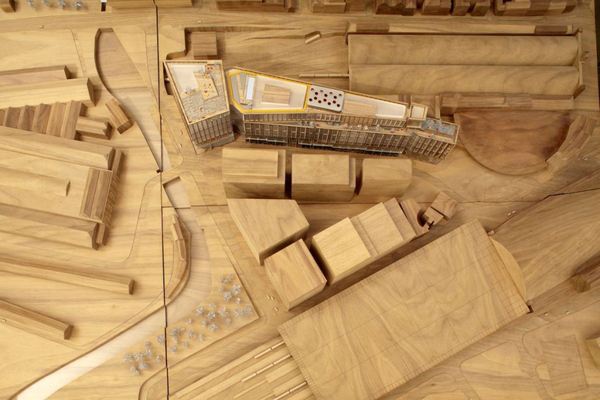 The 2.4 acre site sits between Kings Cross station (top), St Pancras Station (bottom) and Central Saint Martins art school (left). Rob Parrish/Allford Hall Monaghan Morris
So why is Google splashing the cash on this much space? The cynical answer is because it can: Google needs to do something with all those billions of dollars it has earned outside the US because it can't bring them home without a whopper of a tax bill. The more philosophical answer is that the nature of work is changing—at least for those companies that can afford it.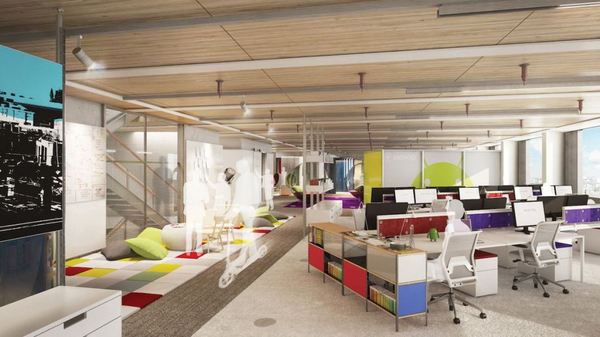 It wouldn't be a tech company's office without cushions carelessly scattered about the place. INK/Allford Hall Monaghan Morris
Conventional wisdom has it that technology has made offices leaner. Manual labour has been eliminated, paper files have been replaced by digital ones, and people can work remotely. Yet that is precisely why Google needs as much space as it does—the swimming pool, the football pitch and the free lunches are meant to entice workers into the office, to keep them there, to eliminate reasons for staying away. Tech companies take as much space as old economy firms—they just use it differently.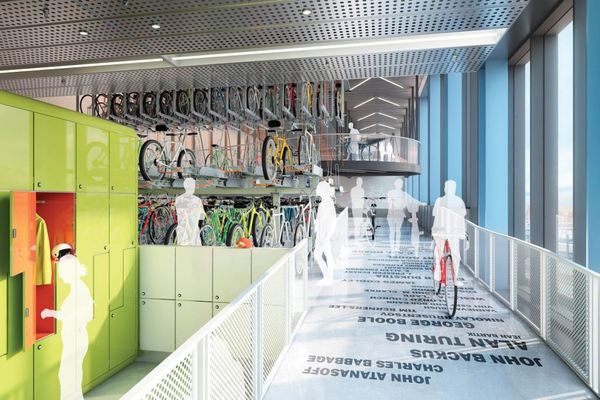 Googlers can cycle right into the building to the 20,000-sq-ft bike shed. INK/Allford Hall Monaghan Morris
"The idea is that the people who are in the building—not the tenant but the actual staff—need to be attracted to the building. They need to like the community of the building," says Simon Allford of Allford Hall Monaghan Morris, the London architects building Google's HQ.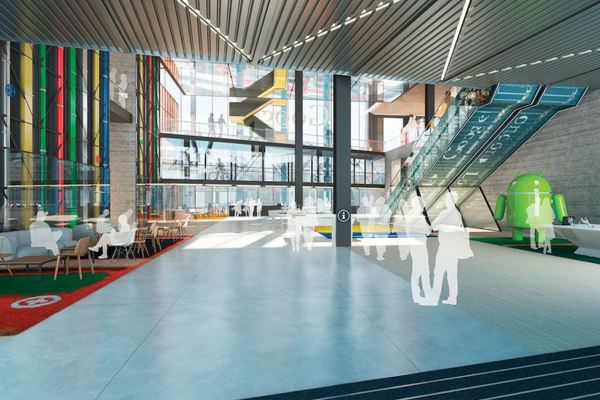 Parts of the office, such as the promenade running through the building, will be open to the public. INK/Allford Hall Monaghan Morris
That's also why Google chose to put its building at Kings Cross. Central Saint Martins, an art school, is just over the canal. The Francis Crick Institute, a biomedical research center, is coming there in 2015. The British Library, home to one of the world's largest collections of knowledge, is up the road. And Googlers with a decent pair of binoculars should be able to read tomorrow's news being typed out at the Guardian's offices on the other side of Kings Cross. When complete, the neighbourhood will have one of the highest concentrations of brilliant, creative people in London.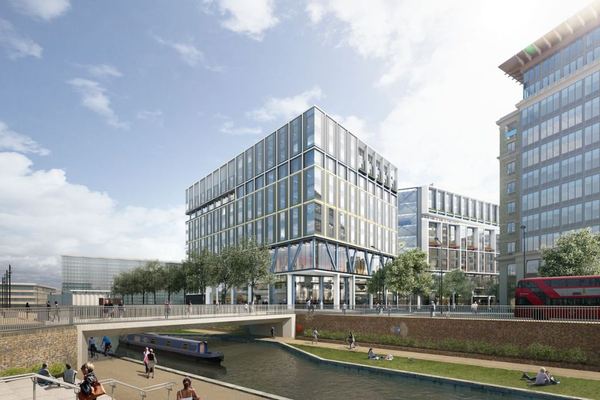 The canal is all that separates Google from 3,500 art students. INK/Allford Hall Monaghan Morris
"The point is if there's 3,500 students, they [Googlers] might form a relationship with Central Saint Martins," says Allford. "You come to a city to meet people who aren't like you, who are different and have different ways of seeing the world. The street life is incredibly important for why you live in a city. Taking that idea of life into the building and social space and what Google call positive friction. You want people to get to their desk and do work, you want them to get around, but you don't want them to miss each other."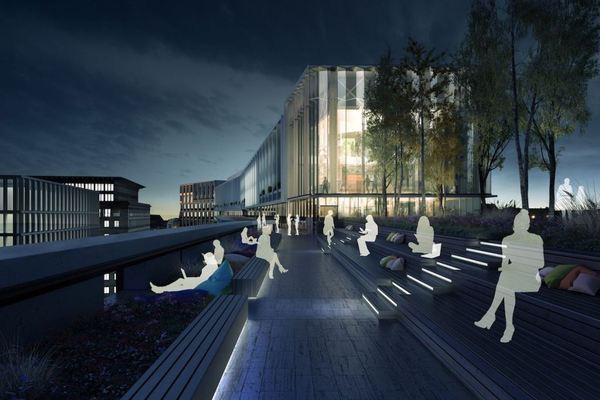 The plan is to make an office so nice you never want to leave. INK/Allford Hall Monaghan Morris
It is also plugged into larger networks. From Kings Cross, Googlers can get to Cambridge, home to Britain's tech hardware sector and chipmakers such as ARM—or Microsoft Research, which is just outside Cambridge station—in 45 minutes. From St Pancras station, on the other side of Google's HQ, they can take the Eurostar to Brussels (capital of the European Union and useful for lobbying eurocrats) or to Paris (Eurodisney!) in just two hours.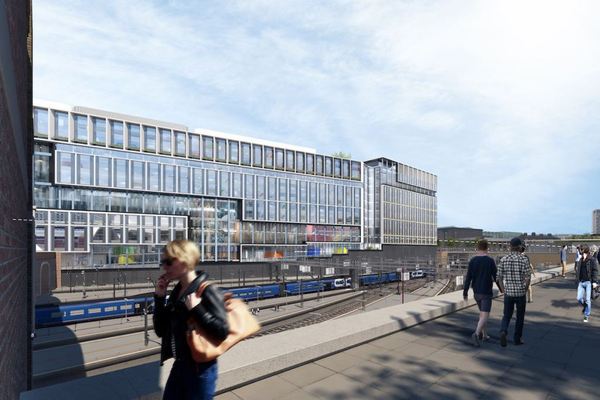 Googlers could conceivably commute to work from bucolic Cambridge—or Paris. INK/Allford Hall Monaghan Morris
The building will remain inherently flexible, says Allford. "We've talked with Google about theatre, stage set, and props: The building is the theatre. It lasts 100 years. The stage set is the auditorium. It lasts 20 years and is a building within the building. The props are—the little meeting rooms, the furniture, all this, which ideally you could reconfigure overnight." The idea is to have a dynamic, flexible space defined by the people who occupy it, not the other way around.

The building stretches 330 metres (1,082 ft) from end to end—as long as the Shard is tall. Allford Hall Monaghan Morris
It can hold 4,500 employees, more than twice the total number of Googlers in London. The building will be ready in 2016. Until then, London-based Googlers will continue to be split between two offices at Victoria and one off Charing Cross road.