The next five years will bring tremendous change in our lives. Part of this narrative is to look out for changes in the Commercial Real Estate industry. Virtual Reality (VR) tours are coming, and fast. Imagine being able to walk through a proposed building, pick from a variety of office furniture and layouts, choose from a detailed list of fixtures and finishes, and watch it all come to life around you in real time. Or how about flying around the city looking at different buildings without leaving your office?
In January, I was able to participate in a flying VR experience. Below is a photo of me trying out this new technology. I was flying through the sky and navigating by turning my body and moving my arms.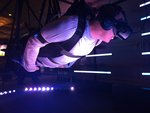 One thing is inevitable: the next 5 years are going to be a substantial period of innovation for virtual reality. It will be very interesting to see how this technology disrupts the current market. If you want to chat about virtual reality and how it will disrupt your business, give me a call.
Craig
602.954.3762
---
Why Commercial Owners Should Use Virtual Reality for Tours
By Billy Fink



March 3, 2016

Companies looking to buy or lease space in commercial buildings are finding it increasingly easy to take a peek at potential properties from their computer or tablet. Detailed specs, floor plans and photos have been the norm in online listings for years. Now commercial brokers and owners are stepping up their marketing game to offer 3D imaging and virtual reality tours to spark more interest.
$80 billion large
A recent study by Goldman Sachs Research predicts that virtual and augmented reality will become an $80 billion market by 2025, of which $2.6 billion will be specifically for real estate. This is roughly the same size of the desktop PC market today. The VR/AR sector is transforming real estate, as well as other industries such as healthcare, engineering, and education.
Virtual reality tours are popping up in both residential and commercial properties. On the commercial side, one of the most prominent applications is marketing for space that is under construction – or even still on the drawing board. Virtual tours can help potential tenants visualize a space that doesn't yet exist, and effectively speed lease-up for developers and owners (just look at Floored). For example, Macerich began using virtual reality technology to showcase some of its early stage projects, including its Fashion Outlets of San Francisco @ Candlestick, a 500,000-square-foot luxury shopping development.
Residential brokers also are beginning to test the power of virtual tours to sell luxury homes and condos. According to a recent article in Fortune, Matthew Hood Real Estate Group at Sotheby's International Realty is using Samsung Gear VR to produce 3D scans that allow a customer to do a virtual walk through in a house using a hand controller to navigate.
Can VR replace the real thing?
According to Hood, the cost of scanning a home for VR ranges from $300 to $700 – not a bad investment considering the firm specializes in marketing $1 million-plus homes. Virtual reality may not completely replace a physical tour, but it does bring some efficiency to the process by allowing homebuyers to quickly review and select, or discount, possible options. It also greatly expands the target market by making the properties more available to people across the country and around the world. The same is true for tenants looking to lease new commercial space.
According to the New York Times, New York brokerage firms such as Halstead, Greenland, Forest City Partners, and Douglas Elliman Real Estate are among those that have said they plan to add virtual-reality technology in the coming months. The article reported that Halstead had 3D walk-throughs available for 30 listings with a goal to add walkthroughs for its entire inventory.
Outstanding challenges
The logistics of how these tours works varies. Some versions provide panoramic camera shots or drone video that gives the illusion of walking through a space. Other versions use a VR headset or goggles that allow a user to take their own self-guided 3D tour of a property. Some of the main providers of VR hardware include names such as Facebook Oculus, Samsung Gear VR and Google Cardboard among others. Because these companies are innovating non-stop, it is likely that 3D gear may become cheaper and more available in the not-too-distant future. Newer tech allows users to click on a mouse or arrow keys on their computer to navigate through a space and zoom in on particular features.
One of the big hurdles for widespread use remains the cost, which may limit the use to larger projects such as commercial real estate and high-end home sales. In particular, designing a detailed VR experience for a building that does not yet exist can easily run into the tens of thousands of dollars. However, for a society that continues to embrace the convenience and efficiency that online shopping offers, it may be only a matter of time before leasing or buying real estate becomes as easy as shopping on Amazon.