For years, US-based companies outsourced their call centers overseas to save money. In many cases, this created a backlash from customers because of poor language skills, limited knowledge of the product and an inability to get through to someone who could actually help solve your problem. We did a deal with an India based company called Tata a few years back where they brought over 100 customer service reps at a time to let them live in the US, learn the language and the slang. They would stay here for 12 to 15 months and then go home to work in the call centers.
That trend is changing now. US companies are bringing back their call centers, placing a higher priority on those workers and making the job a real opportunity. Below are a couple examples and some photos. You will not believe these spaces are this nice and in buildings this cool. I think the best is Zappo's new HQ where the call center is located on the top floors of the building. Customer service reps are placed on a pedestal. I included a short article on Zappo's obsession with customer service reps at the bottom. Consider how this adds tremendous value.
Craig
602.954.3762
ccoppola@leearizona.com
---
U.S. Call-Center Space Gets Makeover
PNC Buys and Renovates Pittsburgh Building for Phone Operation; Other Companies Also Upgrading
BY: JAMES R. HAGERTY
November 26, 2013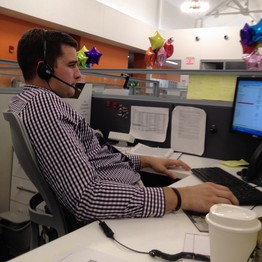 Kyle Bliss handles a customer call at PNC's new Pittsburgh call center. James R. Hagerty/The Wall Street Journal
PITTSBURGH—Call-center workers often toil in dreary offices, sometimes in dying strip malls or converted warehouses.
In the heart of downtown Pittsburgh, though, call-center employees of PNC Financial Services Group Inc. this month moved into luxurious space inside a six-story granite building that once housed Mellon National Bank and later served as a Lord & Taylor department store.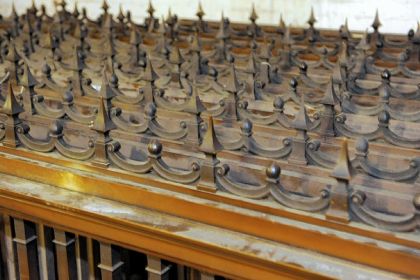 The newly renovated Classical building features the original marble columns, with ceilings as high as 32 feet and antique bronze chandeliers updated with LED lighting.
The new space is so bright and white that "it feels like we're in the Apple Store," said Shawn Buys, one of about 700 PNC employees working in the 90-year-old building across from Mellon Square Park.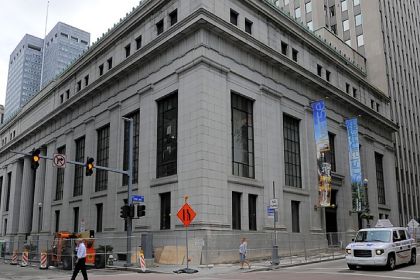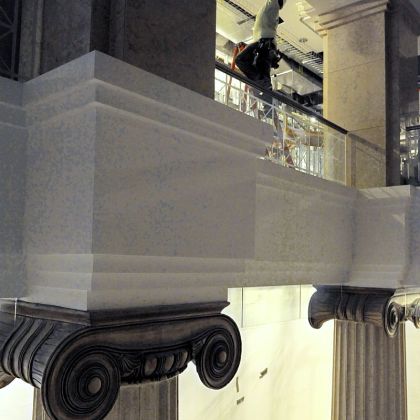 Some other employers also are giving call-center workers more pleasant quarters.
At an eBay Inc. call center in Draper, Utah, the company has provided two basketball courts, indoor bicycle storage and a massage-therapy room, among other amenities.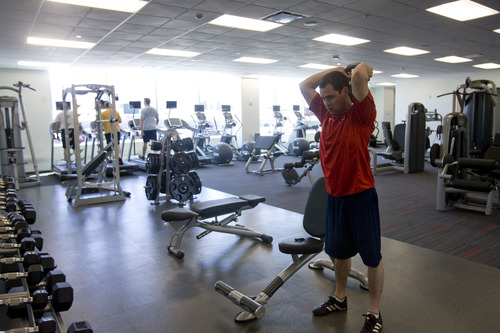 Zappos, an online shoe and clothing retailer owned by Amazon.com Inc., houses call-center workers in its new downtown Las Vegas headquarters, where they get the same types of desks and chairs as executives and have access to a rooftop deck, said Rob Siefker, director of Zappos' "customer loyalty team."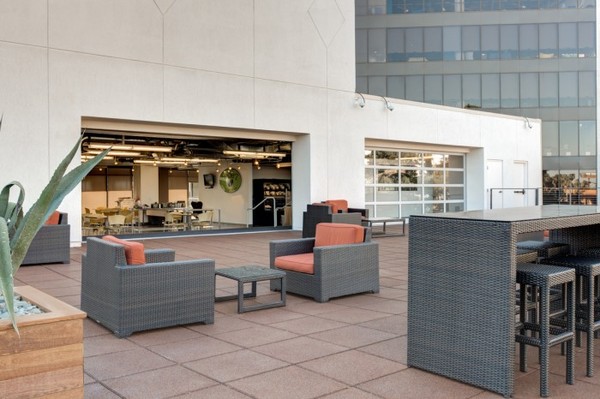 Upgrading call-center workspaces makes economic sense, said Matthew Dixon, an executive director at Corporate Executive Board Co., a research and advisory company based in Arlington, Va., that did a recent study of call centers. They tend to handle more complex customer questions and problems than they did years ago, Mr. Dixon said. Customers get basic information from websites, and that leaves the more complicated matters for the call centers.
Companies also are striving to avoid being "blasted on Facebook or Twitter " for lousy service, Mr. Dixon said. As a result, they are making more efforts to recruit and retain high-quality call-center people. Those efforts sometimes include offering something more than "nondescript buildings in nondescript locations," he said.
Despite the offshoring of some call centers, it is still a big business in the U.S. As of last year, about two million Americans worked as customer-service representatives, many of them in call centers, according to the Labor Department. That was up 6% from a decade before. About 68% of those workers are women.
"Companies are more likely to keep call-center operations in the U.S. today than they were 10 years ago," said Jeff Lessard, a managing director at Cushman & Wakefield Inc. in New York. Workers have become more available amid a weak job market, and employers like the idea of having more control over their call centers, he said.
New call centers often are being created in small cities with plentiful labor, said Mark Seeley, a Phoenix-based senior managing director in CBRE Group Inc.'s labor analytics group. Because lots of employee parking is needed, empty supermarkets or other retail sites can be good candidates for conversion to call centers, he said.
The PNC workers used to occupy a warren of beige cubicles in leased space in the nearby U.S. Steel Tower. PNC figured it could house them less expensively inside the former Mellon building, which PNC acquired for about $3.8 million last year, while also providing a better working environment.
PNC considered suburban locations for the call center, said Gary Saulson, the banking company's real estate chief. But Mr. Saulson didn't believe PNC could have found a suitable location in the suburbs that would have been cheaper. Another consideration: Any suburban location would have been inconvenient for some of the current employees and might have prompted some to quit.
"There's a huge cost to turnover," Mr. Saulson noted.
After the Lord & Taylor store closed in 2004, the building stood empty for years. "Nobody could figure out what to do with it," Mr. Saulson said. PNC decided it was a bargain, even though it needed heavy renovation.
The building's history is on display. The reception desk is made from a slab of marble once used for writing Mellon Bank checks. Bronze gates that once stood outside the vault are hung on the wall. Other bits of the bank's past, including velvet-covered railings that kept customers in line, are scattered around the building.
Lord & Taylor also has left traces, including a brown marble wall in one break area. Outside the basement cafeteria, Mr. Saulson told a visitor: "The floor you're standing on was the Ralph Lauren shop."
Photos of eBay Campus in Draper, Utah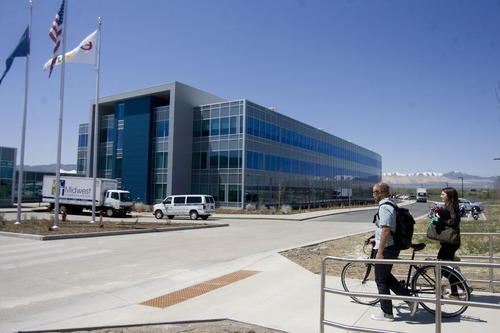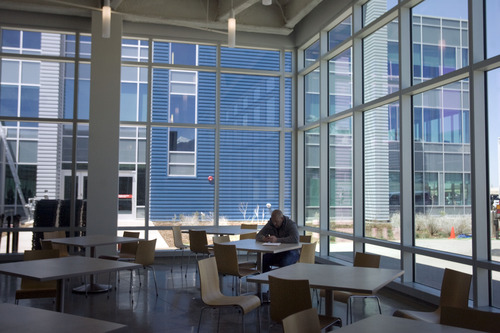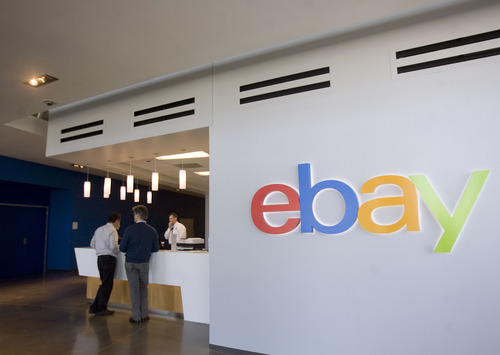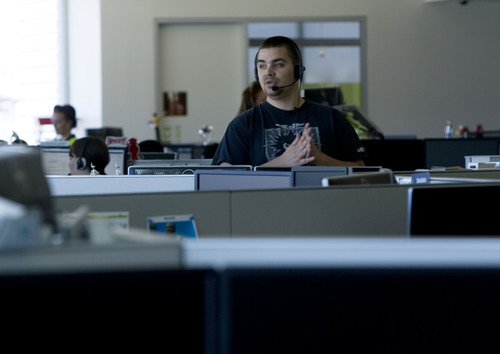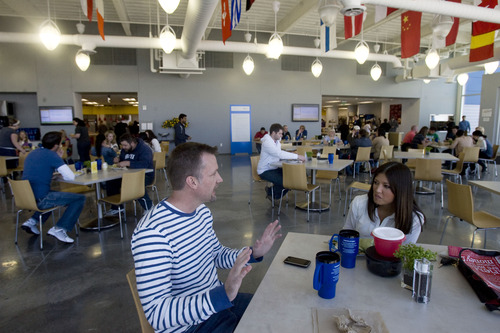 Photos of Zappos Headquarters in Las Vegas, Nevada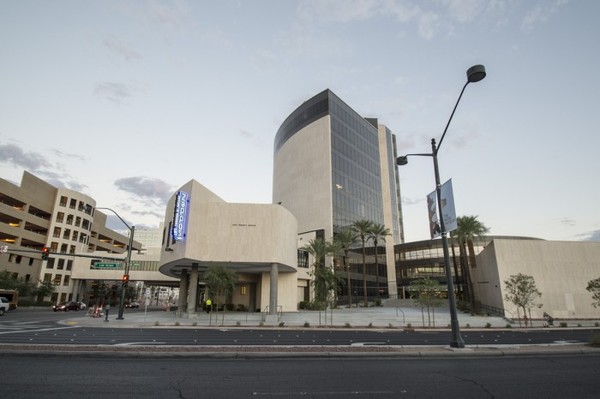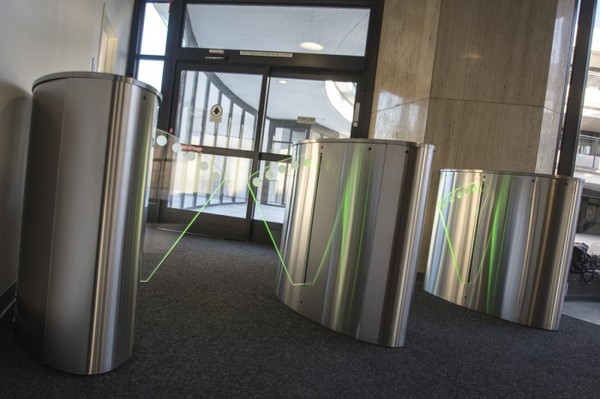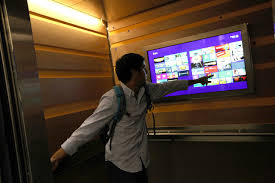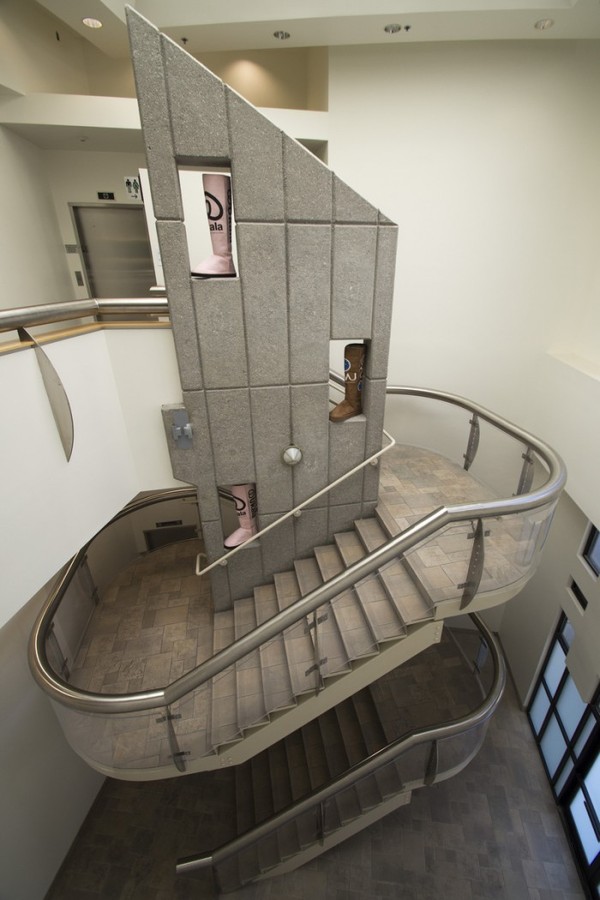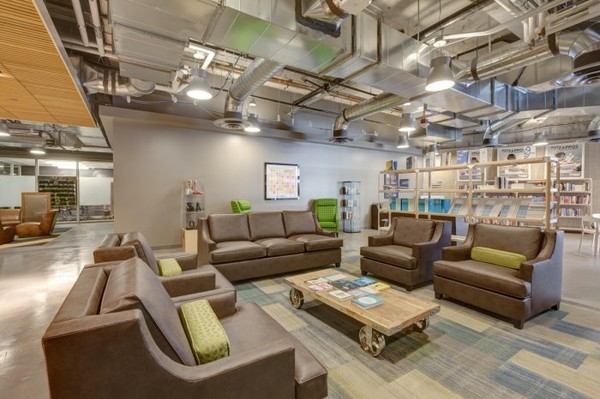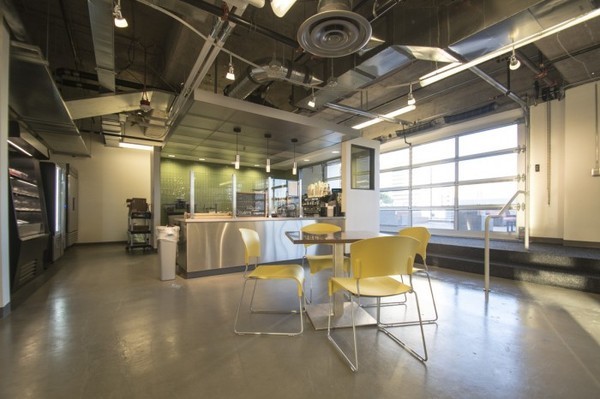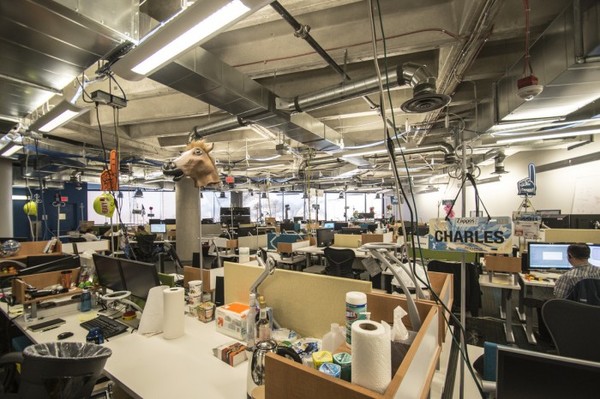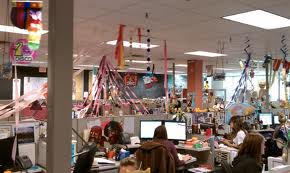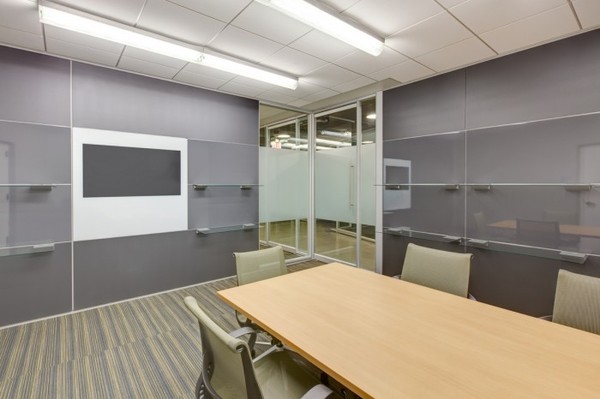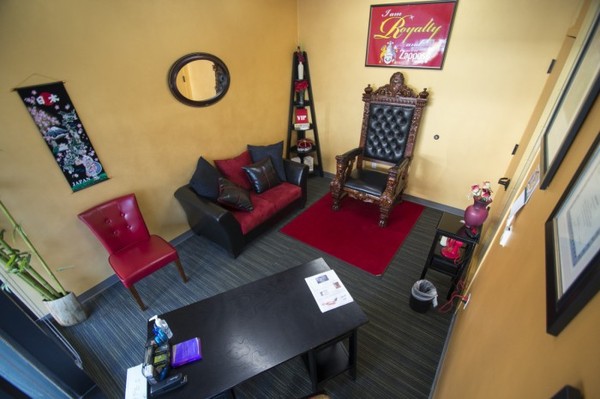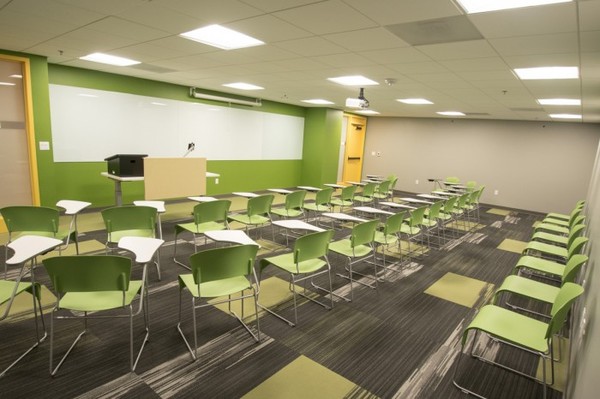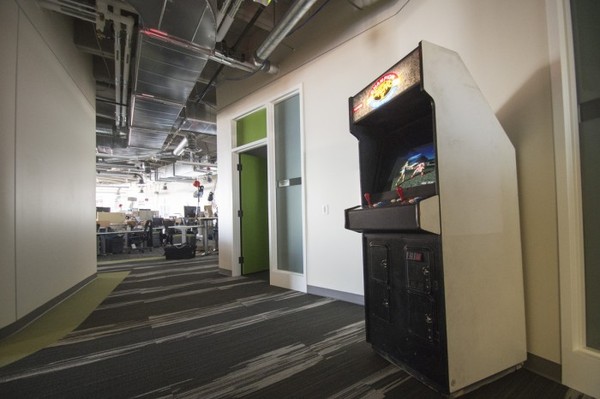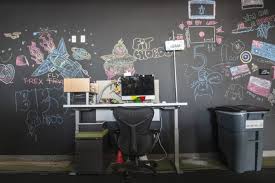 Why the Best Customer Service is Unsexy and What You Can Learn From Zappos
By: Olivia Cole
January 9, 2014


We have entered an age of customer obsession. Businesses have begun to realize the value in focusing on providing excellent, efficient customer service and are exploring new tools and fancy options for serving their users' needs. But a recent article by Zappos CEO Tony Hsieh is drawing some attention for its endorsement of what Hsieh calls "unsexy" customer service. Zappos is known everywhere for its stellar customer service, so what does Hsieh credit with Zappos' success? The telephone.
"Our belief," Hsieh says, "is that as unsexy and low-tech as it may sound, the telephone is one of the best branding devices out there. You have the customer's undivided attention for five or 10 minutes, and if you get the call right, he or she remembers the experience for a very long time and tells friends about it."
That belief has gotten Zappos ranked in the top 10 for best customer service for several years in a row. So what is Zappos doing right and how can you do it too?
They Put Phone Numbers on Every Page
"We put our phone number at the top of every single page of our website because we actually want to talk to our customers," says Hsieh.
Zappos has the right idea. When you place a phone number on each page of your website, not only do you provide an easy way for your users to reach out to you with any problems they encounter, you get a host of other benefits. For example, with unique trackable phone numbers on your website, you have the ability to have that data passed into your CRM so that you know exactly what page the caller was viewing when they picked up the phone (as well as the marketing source – like Google search ads or email marketing – that brought them there). This makes it easier for your brilliant call center staff to address the questions your callers have: when they know what the caller was looking at, they're one step ahead of the call. Whisper messages—a "whispered" audio message to the call center rep that only they hear before the call that provides information about the customer's situation—are also very helpful for businesses focused on excellent customer service: the more information you have to solve their problem, the better and more efficient the interaction will be.
They Use the Phone as A Branding Device
"Usually when marketing departments do their ROI calculations," says Hsieh, "they assume that the lifetime value of a customer is fixed. We view it as something that can grow if we create positive emotional associations with our brand."
Zappos nails it when it comes to the power of the telephone in creating a strong relationship between customers and your brand. The phone (however unsexy) represents something personal that has been lost in an age of impersonal communications. It can be a tool with which to create a relationship built on trust and reliability. A business relationship is all rainbows and butterflies until the customer needs to contact you and can't get beyond a contact form on a website. They want to talk. Make it possible. It will mean better things for your branding than you can possibly imagine.
They Staff Their Call Centers With Their Own People
"We didn't trust that a third party would care about our customers as much as we did," says Hsieh. "So we agreed that Zappos employees should staff the call center."
Ultimately the decision to staff their call centers with their own employees as opposed to a third party meant that the people taking their customers' calls were dedicated to living up to the Zappos standard. This can mean the difference between lackluster customer service and life-long customers. The increasing sophistication of the virtual call center makes it even easier for businesses to provide Zappos-level customer service, even if they can't afford the kind of space Zappos has on the West Coast. Customer service reps can work from home more easily than ever before with the capabilities offered by a virtual call center. Employees can take calls from anywhere on any phone, so your customers will always find someone to take their question.
We're with Zappos on this one. The phone might be "unsexy," but when it comes to customer service, reliability and a personal touch ranks higher than sexiness.