Like most Americans, I followed the terrorist attack on the World Trade Center closely. Unlike most, I have continued to track the progress of the redevelopment with interest because of the office space component. Today, you get a quick update on the office space and some interesting thoughts.
First, we are now into 2014, and the tower is being completed after years of construction. During this time, the anemic recovery has lacked robust job growth AND competition has increased. There is competition on site, and a new development being created.
Here is a quick overview:
–3,000,000 SF of office
–1,350,000 SF remains to be leased
–Conde Nast is the anchor leasing over 1,000,000 SF
–Can you believe the GSA has leased space in the building? Yes, taxpayers are paying this tab. No idea why they would feel the need to take space here.
–Rates are quoted at $75/SF. Actually, not that high for NYC.
–4 Trade Center is finishing construction on site and still has 1,000,000 SF to lease
–3 Trade Center has stopped construction on site due to the initial construction loan limit of seven stories without any preleasing
–Hudson Yards is now the hot spot stealing a number of high profile tenants including SAP, L'Oreal, and Coach
Finally, with its spire reaching 1,776 feet into the air, a symbolic height in reference to the year of the United States Declaration of Independence, it has surpassed the Willis Tower (Sears Tower to most of us) and has become the tallest building in the US.
There are lots of photos below and I have highlighted some cool additional points of this construction.
Craig
602.954.3762
ccoppola@leearizona.com
One World Trade Center Unveils New Marketing Offices To Woo Tenants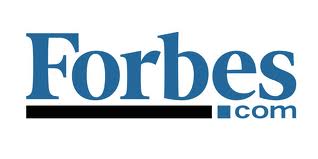 By: Morgan Brennan
November 5, 2013
"It was quite an effort to get this done, but it's come together very quickly," says Douglas Durst, on a recent cloudy day from the 63rd floor of One World Trade Center, his eponymous real estate developer's most high-profile project ever.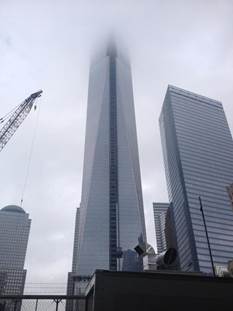 Morgan Brennan
One World Trade Center has 104 floors and, including its spire, stands 1,776 feet tall. The glass-and-steel skyscraper, located within the 16-acre site once inhabited by the Twin Towers, will open in 2014.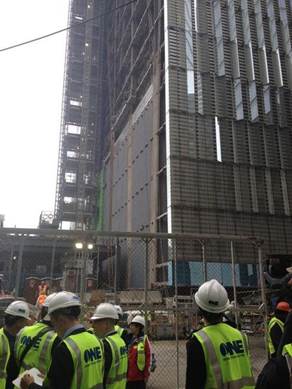 Morgan Brennan
Entrance through the World Trade Center site's construction gate requires hard hats, goggles and steel-toe boots.
One World Trade Center, the shining glass-and-steel megalith that now defines Lower Manhattan's skyline, juts (at least in theory) 1,776 feet into the air including its spire. Once dubbed the Freedom Tower, the signature skyscraper has been more than a decade in the making, since the tragic events of the 9/11 attacks leveled the Twin Towers in 2001.
Twelve years later, after delays and missteps have helped contribute to what is now a nearly $4 billion price tag, One World Trade Center is finally closing in on its 2014 completion.
The progress of construction has enabled the Durst Organization to carve out a marketing center on this lofty floor inside the new tower, one story below the planned Sky Lobby. The project, comprised of three million square feet of Class A office space stretched across 104 floors, is about 55% leased. Its brokers hope this new feature will help solidify deals with new tenants for the remaining 1.35 million square feet.
"This is a model floor that shows different types of uses," says Durst, chairman of the Durst Organization, clad in spectacles, pinstripe suit and work boots fit for a construction site. "But the most dramatic way we market is the view: on a clear day it is just fantastic."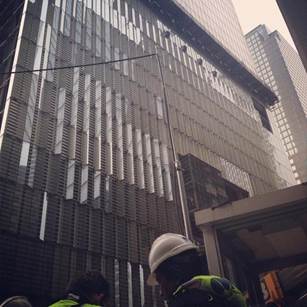 Morgan Brennan
The base of One WTC, located on Vesey Street.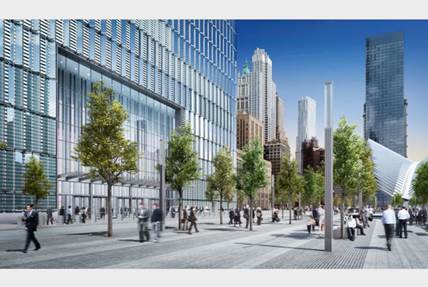 One World Trade Center
A rendering of the completed main entrance into One WTC.
While prospective tenants have been able to visit the massive construction site for the past several years — a tour could take as long as three hours — the fact that semi-finished floor space wasn't available to be seen until now left a lot up to the imagination, especially in light of the $75 per square foot price tag.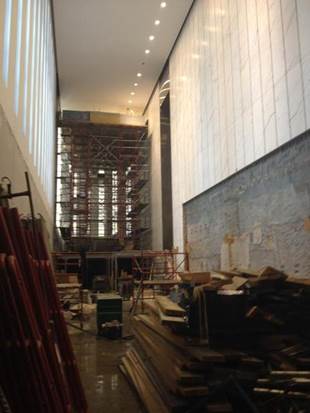 Morgan Brennan
The first floor lobby, still under construction, will have 55-foot tall marble-paneled walls.

Morgan Brennan
Marble panels stretch across the tower's main lobby, which will be accessible from three sides and connected to the underground transportation network.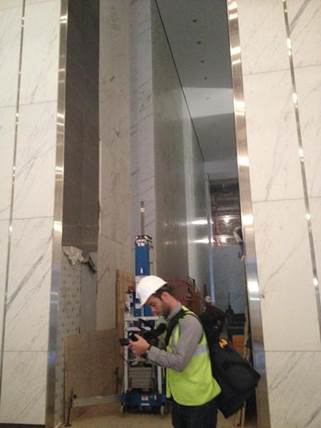 Morgan Brennan
Forbes videographer Will Sanderson videotapes the lobby.
The marketing center encompasses a full floor, decorated in office furniture and sliding glass partitions meant to reflect some of the proposed uses of One WTC's available office space. The floor has been carved into "small vignettes that show the variety of tenant fit-outs," according to Eric Engelhardt, the Durst Organization's director of leasing for the building.
There's an expansive barren space that first greets guests when they come off of the construction elevators (the passenger elevators are not yet operational), an open area defined only by walls of floor-to-ceiling windows and mounted television screens spouting marketing videos. Past this raw entry are the so-called "vignettes" demonstrating how the building's space could be fitted for company use, from small scale tenants interested only in a few thousand square feet to larger tenants looking to rent an entire floor or more.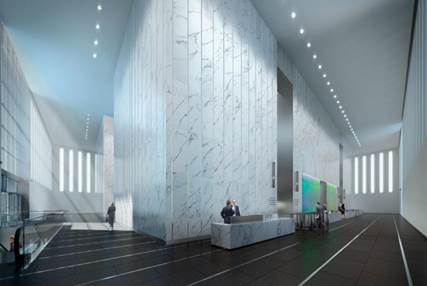 One World Trade Center
A rendering of the finished lobby.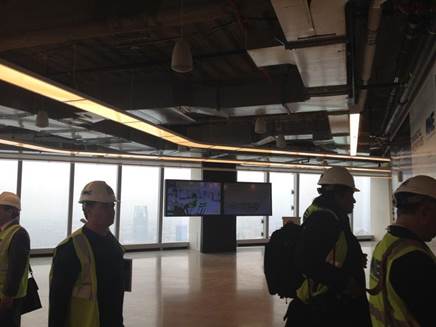 Morgan Brennan
The construction elevators deposit visitors in an open area of the 63rd-floor marketing center, surrounded by walls of windows and mounted television screens playing marketing videos of the building.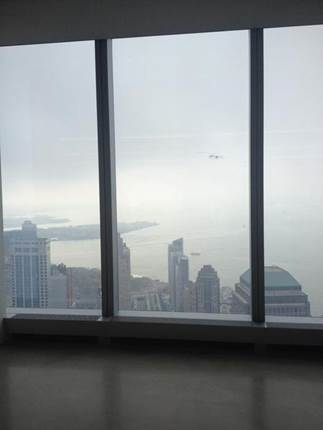 Morgan Brennan
The floor-to-ceiling windows offer views of New York Harbor, Battery Park City and the Financial District, the Hudson and East Rivers, New Jersey, and four of the five New York City boroughs.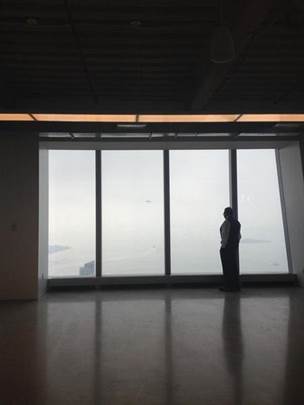 Morgan Brennan
Douglas Durst, chairman of the Durst Organization, takes in the view from the 63rd floor. His real estate development company has owned a 10% stake in One WTC since 2010.
One World Trade Center's showroom is sleek, modern and airy but nothing can quite compare to the views Durst speaks so fondly about: miles of Metropolitan New York landscape, compassed by the Statue of Liberty-studded New York Harbor, the green domes of Battery Park City's World Financial Center, and the bridges connecting Manhattan to Brooklyn and Queens.
Looking down, one can see the eight-acre 9/11 Memorial, a heart-tugging aerial view of the Twin Tower building footprints-turned-reflecting pools surrounded by bronze borders that host the names of every person that perished in the terrorist attacks. The silver-white roof of the 9/11 Museum peeks out from the trees that also grace the memorial park.
Putting this height into perspective, construction workers on the site below are the size of ants; taxi cabs on nearby streets resemble the micro machine toy cars once wildly popular with children.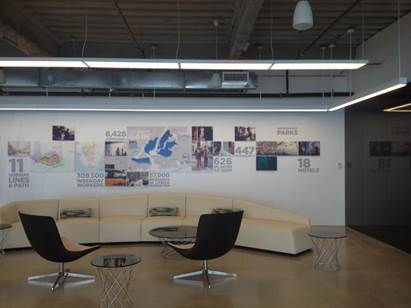 Morgan Brennan
A wall in the 63rd-floor marketing center touts economic statistics for Lower Manhattan, the square mile comprising the bottom tip of the island. The World Trade Center sits in Lower Manhattan, which has become one of New York City's fastest-growing neighborhoods of the past decade.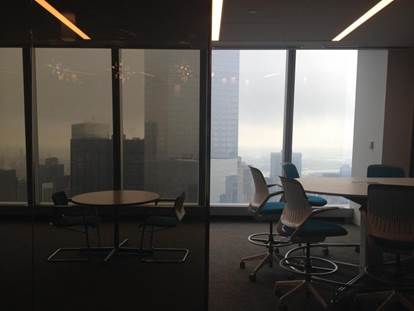 Morgan Brennan
The full-floor marketing center was carved out into "small vignettes that show the variety of tenant fit-outs," according to Eric Engelhardt, the Durst Organization's director of leasing at One WTC. Among the examples are glass-partitioned conference rooms and offices.
Leasing brokers are quick to point out that the lack of columns throughout the building's office space allow natural light to penetrate as far into each floor as 45 feet, to the structure's core. "It allows you to reduce circulation space," explains Tara Stacom, a vice chairman at Cushman & Wakefield, the commercial brokerage handling leasing of One WTC. "You can take anywhere from 20% to 25% less space in this tower than in the older buildings."
She and Durst both note that their teams are in negotiations with new tenants whose names they hope to announce before the end of this year. Much of the interest is coming from abroad, particularly international companies headquartered overseas that want to have an American outpost in a trophy building. Domestic interest is coming largely from companies outside of finance, the sector that has historically powered Lower Manhattan thanks to nearby Wall Street. Stacom says tech companies, tech services companies, law firms, and media companies have shown the most interest in the building.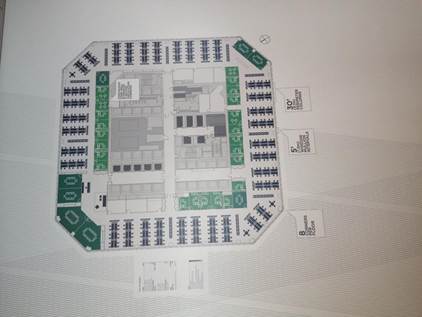 Morgan Brennan
Blueprint examples of office layouts grace walls in the marketing center, offering prospective tenants ideas.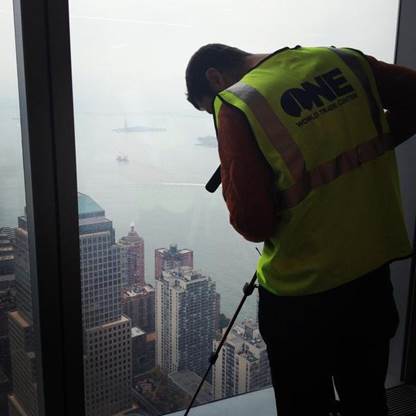 Morgan Brennan
Forbes videographer Tim Pierson captures the view from the 63rd floor.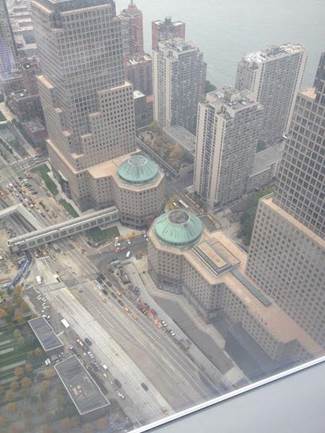 Morgan Brennan
From the 63rd floor once can see the nearby World Financial Center and Battery Park City, a Lower Manhattan neighborhood erected atop the landfill originally excavated from the World Trade Center site when the Twin Towers were built in the 1960s.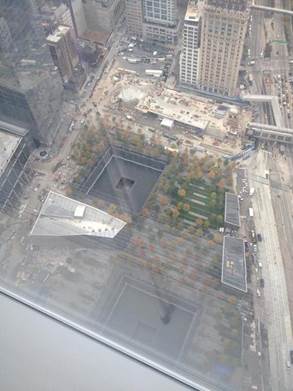 Morgan Brennan
An aerial view from the 63rd floor of the eight-acre 9/11 Memorial and Museum. The giant squares are the Twin Tower building footprints turned memorial pools, surrounded by bronze borders hosting the names of everyone who perished in both the 1993 and 2001 terrorist attacks. Swamp white oak trees also populate the memorial site.
Of the tenants already on board, Conde Nast is the building's so-called anchor, in a deal that has been valued at $2 billion over the next 25 years. The media giant signed on for 1.2 million square feet in 2011 in exchange for a juicy incentives package that included the Port Authority of New York and New Jersey, the site's majority owner, assuming the last four to five years of its current lease in Midtown Manhattan. Conde Nast is expected to take over its new headquarters in January 2014 and move its workforce into the space later in the year.
Other tenants include Vantone Holdings Company Ltd., a Chinese real estate investment firm, and the U.S. General Services Administration, an arm of the federal government.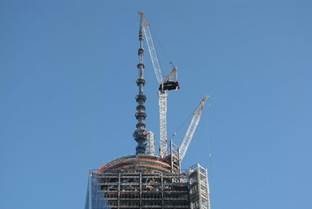 One World Trade Center
The 408-foot spire was affixed to the top of the tower in spring of 2013. It is now the source of contention regarding the building's actual height, which has been lauded as 1,776 feet in honor of America's Declaration of Independence. In November, the Council on Tall Buildings and Urban Habitat will debate whether the spire does actually count toward the height of the building, a decision that will crown either One WTC or Chicago's Willis Tower the Western hemisphere's tallest building.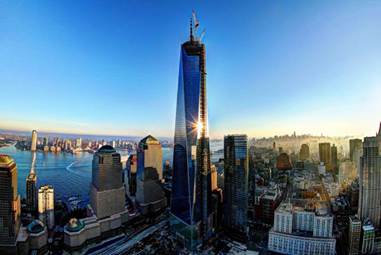 One World Trade Center
The tower will be completed in 2014. Its anchor tenant, Conde Nast, is scheduled to take over its nearly one million square feet of space in early 2014 with the goal of fitting it out and moving its worker base in before the end of the year.
"We are well ahead of where people expected the leasing to be for One World Trade Center and we are very excited about the two new floors on 45 and 46," insists Stacom, referring to the 94,000 square feet recently set aside and subdivided for smaller tenants.
The building is asking $75 a square foot for office space below the 64th floor Sky Lobby, though incentives are being offered to sweeten the deal. The developers are pre-building new tenants' spaces to their specifications, free of cost. And larger tenants have access to packages that shave off as much as $8 per square foot in price. Stacom, who leases office space across Manhattan, notes that the price is relatively cheap for new construction when compared to an average price per square foot of $74 in Midtown South.
Still, One WTC faces an increasing amount of competition, some of it just next door. Silverstein Properties' 4 World Trade Center will open later this month, comprised of 2.3 million square feet of office space inside 72 stories. An estimated 1 million square feet is still vacant. And 3 World Trade Center, which has as much as 2.8 million square feet of office space planned, stalled seven stories into construction earlier this year due to a lack of tenants.
But perhaps One WTC's steepest competition is further north, at Hudson Yards, the mega project emerging along the last stretch of the High Line atop the Far West Side's train tracks. That new neighborhood within a neighborhood will encompass 26 acres and 17 million square feet of mixed use space including two office towers. Prospective tenants there are being offered a choice of leasing or buying at cost. Time Warner Center, arguably the city's largest tenant shopping for new space, is expected to sign on there, joining companies like Coach, SAP and L'Oreal.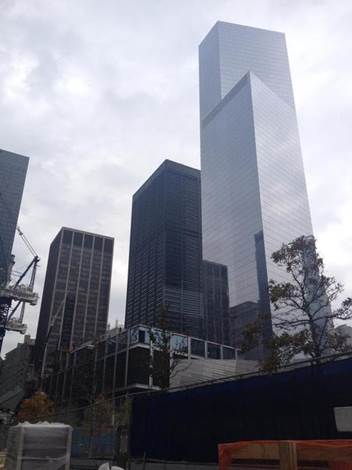 Morgan Brennan
The active 16-acre World Trade Center construction site is home to a host of buildings and structures including 4 World Trade Center, a 978-foot office tower scheduled to open on November 12, 2013.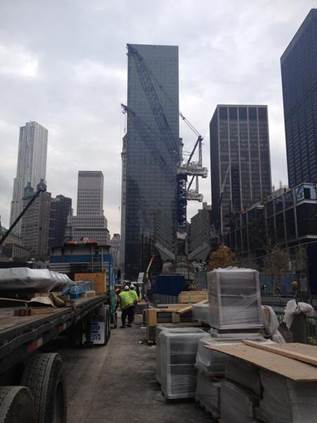 Morgan Brennan
The Transportation Hub, which currently resembles a steel skeleton, has been under construction since 2007. Designed by architect Santiago Calatrava, it will tout retractable steel-and-glass 'wings' that will allow natural light to penetrate the rail platforms 60 feet below ground. The hub is expected to host as many as 250,000 pedestrians per day and its large public transportation network is a selling point for office space in One WTC.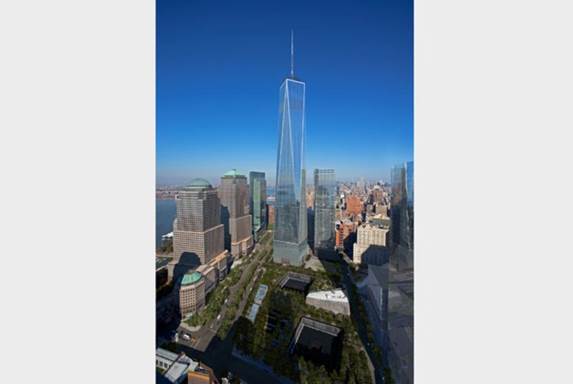 One World Trade Center
A rendering the finished One World Trade Center and its surrounding structures.
The Port Authority of New York and New Jersey owns a majority stake in One World Trade Center as well as nearly all of the 16-acres of land (save 7 WTC) that the greater Trade Center site encompasses. The Durst Organization came on as a minority owner in One WTC in 2010, acquiring a 10% stake and the right to property manage the building in return for helping secure tenants.
"The Port Authority has its way of doing things," concedes Durst. "They know what to do in terms of airports and bridges, but an office building takes special knowledge and trying to convince them that we actually do know what we are doing sometimes takes more effort than we'd like."
Tishman Construction, the same company that erected the Twin Towers in the 1960s, has been building the tower. The lease for the entire World Trade Center complex is held by Silverstein Properties, in a 99-year deal that had been inked an unfortunate six weeks before the September 11 attacks.
Later this month, One WTC will grace headlines again when the Chicago, Ill.-based Council on Tall Buildings and Urban Habitat comes to a decision about measuring the new tower's height. At least in theory, the building, designed by star architect David Childs of Skidmore Owings & Merrill, stands a symbolic 1,776 feet tall. But that design included an ornamental "radome" comprised of fiberglass and steel that would cover the skyscraper's mast, a feature that has since been scrapped by the Port Authority and the Durst Organization due to its supposed $20 million price tag and projected costly upkeep.
The council's call on measurement methodology could translate into a height allocation that shaves off as much as 400 feet, meaning Chicago's Willis Tower could remain the country's — and the Western Hemisphere's — tallest tower.
"My thought is that the spire is 1,776 feet tall no matter what they say," asserts Durst, glancing around One WTC's 63rd floor marketing office. "Other thoughts, I can't say here!"