1,000 cars valet parked in a garage. No humans. Unreal. See the story below and if you are really interested, check out the two minute video of the largest parking garage in Europe that is completely run by robots.
I have sent some previous narratives on robotics and how it is eliminating jobs. This is one area it will change – how people park. It's worth a few minutes to see what was just finished under a library in Denmark. Drivers park their car in one of 20 booths and receive a ticket. The car is lowered and one of 24 robots transfer it to a parking space.
 
Wow.
Craig
602.954.3762
ccoppola@leearizona.com
P.S. I discussed Atlas Robots in a previous VR (http://www.c2brokerage.com/the-rise-of-robotics.html). Check out the latest robots by clicking here.
---
Europe's biggest robotic car park opens below Scandinavia's largest library
Jessica Mairs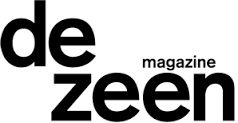 Friday November 20th 2015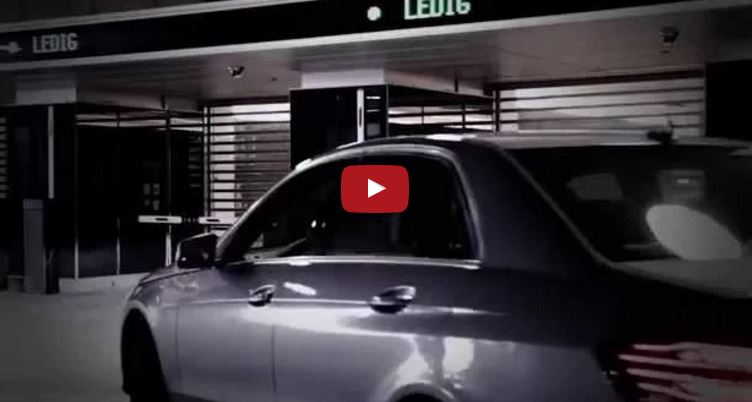 Lödige Industries' automated car park has been installed beneath a library in Denmark, which was designed by Schmidt Hammer Lassen (+ movie).
The robotic system was developed by the German firm Lödige Industries and can stow 1,000 cars over three subterranean storeys. It acts like a valet, picking up cars from their drivers and transporting them to a designated parking space.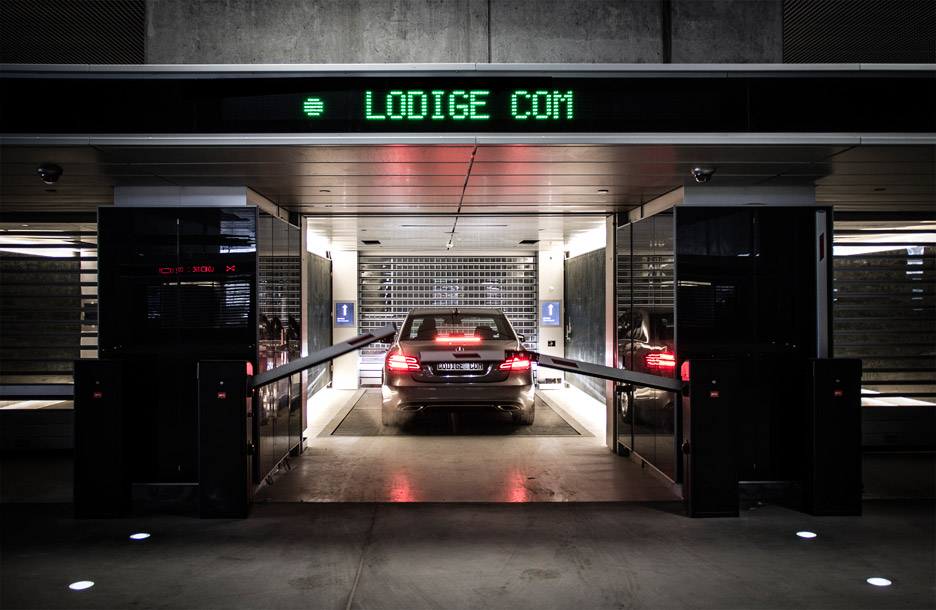 The system can park or retrieve a car in just one minute and handle up to 235 vehicles each hour. It has 191 fewer parking spaces than the world's largest automated car park, which is located in the Emirates Financial Towers in Dubai.
The car park in Aarhus is located below Dokk1, a cultural complex by Schmidt Hammer Lassen containing Scandinavia's largest library. While the building completed earlier this summer, the Dokk1 Aarhus Car Park has just completed its testing phase.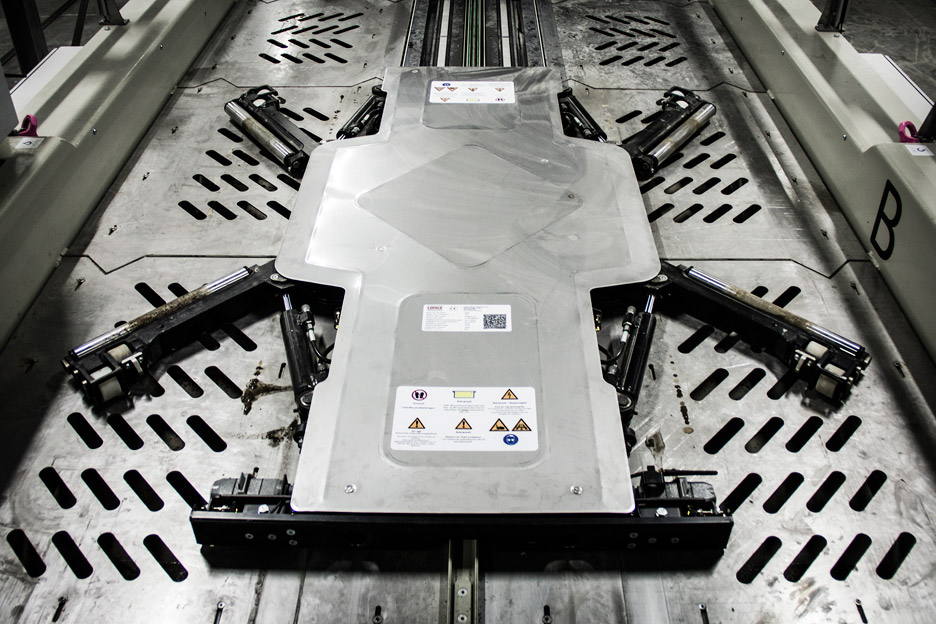 "From the moment the driver parks his car, everything is automatic," said Lödige Industries chief executive Philippe De Backer.
"Compact construction is the key, especially in city centres. Parking systems must fit into a limited space, which is why automated solutions are so attractive."
Aside from its space- and time-saving benefits, the firm claims its Lödige Shifter system also helps to prevent the knocks and scrapes cars can suffer in conventional car parks.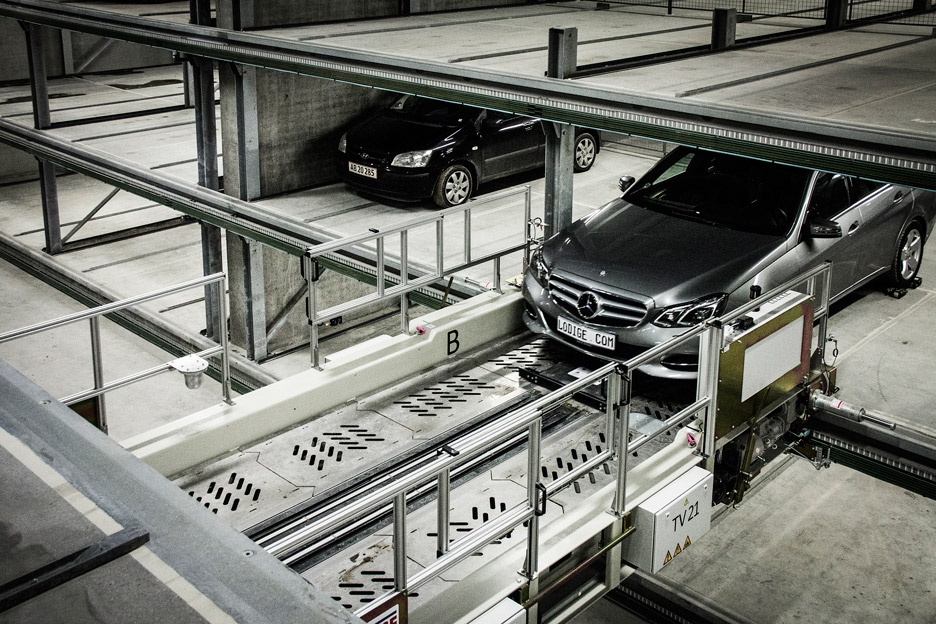 Drivers park their car in one of 20 ground-level booths and receive a ticket. Once the car has been vacated, it is lowered below ground and lifted onto one of 24 robots that transfer it to a parking space.
"The real innovation is not simply the size of the car park – automated car parks rarely exceed 300 parking spaces – it's the absence of pallets that are traditionally used as carrier units," said a statement from Lödige Industries. "This makes the whole system much quicker and more efficient."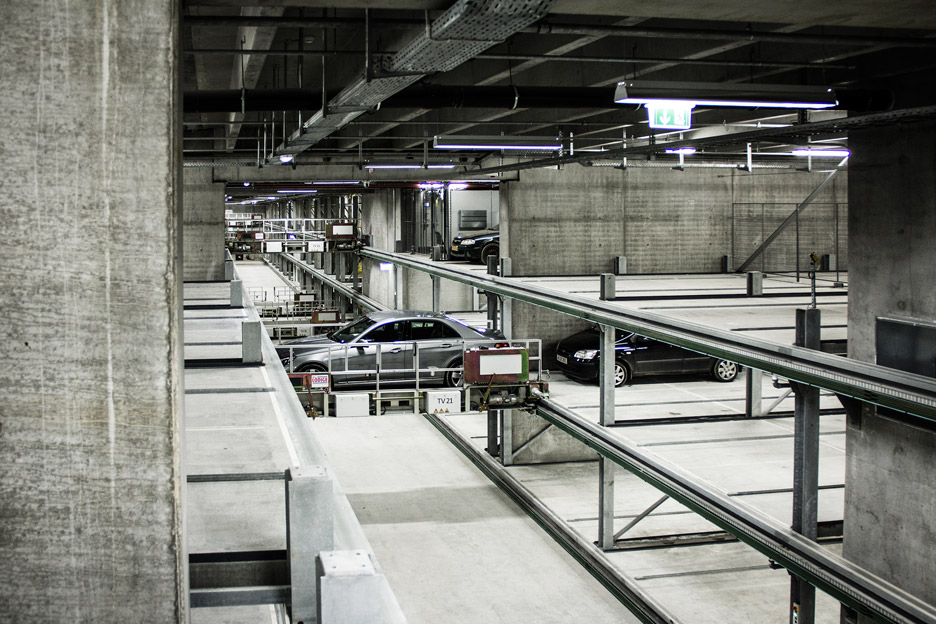 "This is an ultra-flat robot that drives underneath the car and lifts it up at the wheels to take it from the lift to the transfer vehicle and transport it to the parking space," explained the company.
Drivers use a touchscreen to recall their vehicle to drop-off shopping or to leave the car park. A round-the-clock helpline is available for users.
Schmidt Hammer Lassen is currently working with American artist James Turrell on an extension to its ARoS Aarhus Art Museum in the Danish city.