This narrative is focused on all things commercial real estate. We also like to look outside our world to see what will be coming soon to a commercial project near you. Below is a short article about a building currently under construction on Cornell Tech's Roosevelt Island Campus. In short, it is the first high-rise residential building in the world to be built to Passive House (PH) standards. These standards surpass LEED, upping the ante for energy conservation.
 
Some of the features of this building include:
–Super insulated building façade creating an airtight building
–EVR-energy recovery ventilation system
–A louver system that are like "gills" allowing the building systems to breathe
 
Sustainability is here, and PH standards are pushing the envelope.
Craig
602.954.3762
ccoppola@leearizona.com
P.S.- Michael Kosta is back in this week's preview. To learn more on how C2 will perform for you, just give us a call. The full video is on our website, click here to check it out.
---
Cornell Tech to build first passive house residential high-rise
Story Contacts: George Lowery, Joe Schwartz

June 17, 2015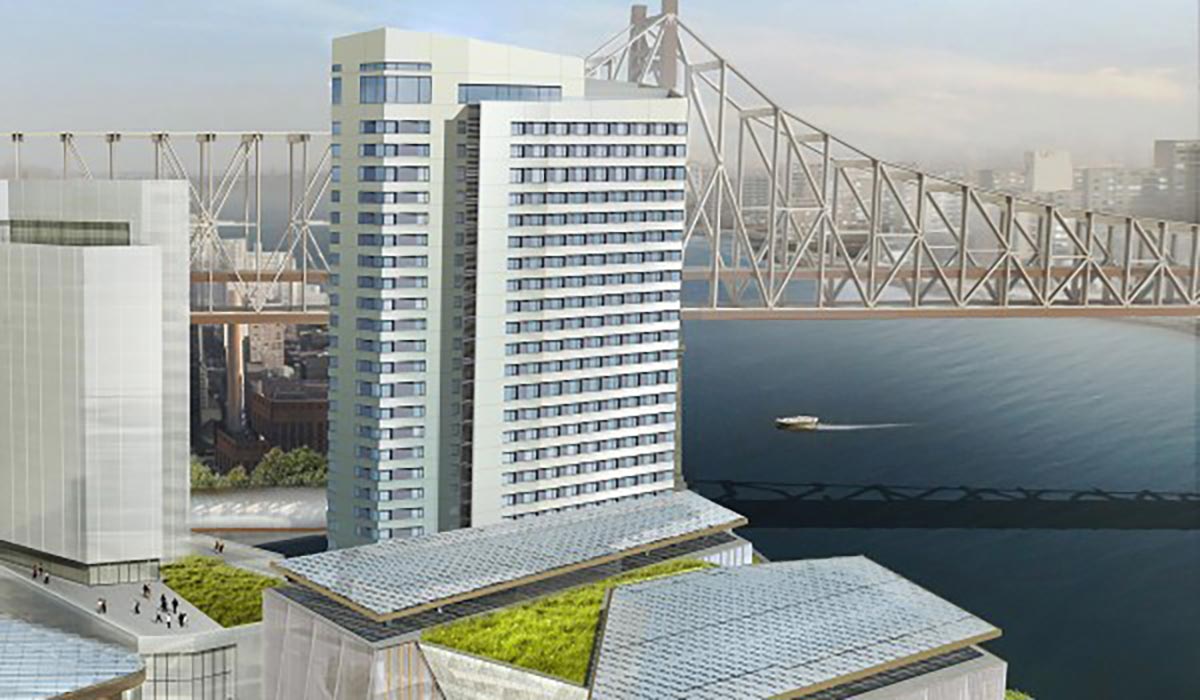 Provided. Cornell Tech announced that the first residential building on the Roosevelt Island campus will become the first high-rise residential building in the world built to passive house standards.
The first residential building on Cornell Tech's Roosevelt Island campus will become the first high-rise residential building in the world built to passive house (PH) standards, a rigorous building standard for energy consumption. The building will become the beacon of the Cornell Tech campus and a symbol of the school's commitment to sustainability. Construction is set to begin this month on the 26-story building; it will comprise 350 residential units and open as part of the campus's first phase in 2017.
 
"Constructing the first passive house residential high-rise in the world is the latest and most exciting example of our effort to set new benchmarks in sustainability and innovation," said Cornell Tech Dean Dan Huttenlocher. "We hope this will serve as a model for how passive house standards can be brought to scale in the United States and create a new template for green design here in New York City."
PH buildings consume 60 to 70 percent less energy than typical buildings, surpassing modern standards like LEED and NYSERDA. They incorporate a super insulated building façade, an airtight building envelope and an energy recovery ventilation (ERV) system to create a comfortable interior climate without drafts and cold spots. The ERV system constantly pulls in fresh air and removes stale air, while recovering the energy in the climate-controlled air leaving the building.
Cornell Tech Residential will incorporate a number of sustainability-focused design elements. The façade will act as a thermally insulated blanket wrapping the building structure. At the southwest façade, facing Manhattan, the exterior façade opens to reveal a louver system that extends the entire height of the building. This reveal is designed to be the "gills" of the building, housing the heating and cooling equipment and allowing the building system to "breathe." Low VOC‐paint, which limits off‐gassing and improves indoor air quality, will be used throughout the building, among many other elements. Compared with conventional construction, the building is projected to save 882 tons of CO2 per year, equal to planting 5,300 new trees.
Developed in partnership with the Hudson Companies and Related Companies and designed by New York City-based Handel Architects, the high-rise will be the tallest building on Cornell Tech's campus. A state-of-the-art, color-changing paint will make the building's exterior shimmer when reflecting light, shifting color from silver to warm champagne. The interior is designed to provide a comfortable living experience that reinforces the social and intellectual connectivity that is at the heart of the school's mission, and it will feature a number of collaborative interior and exterior spaces.