Steady net absorption (more space being leased due to job growth) continues to chip away at Metro Phoenix's office vacancy as we head into Q4 2016. This quarter, Phoenix benefitted from medium-sized companies expanding. We hope these companies continue to grow. The metro Phoenix office market is on pace to perform roughly the same as 2015, i.e. just above average.
 
The market experienced 845,000 SF of net absorption in Q3, lowering vacancy down to 18.6%, and closer to equilibrium levels of 15% – 17% (neither a Landlord's nor a Tenant's market). What does this really mean?  It means there are hot spots across the Valley, like Tempe and South Scottsdale, where vacancy is in the single digits, and it's tough to find Class A space for less than $30/SF/YR.  It also means there are areas like Midtown Phoenix and the Superstition Corridor starting to see more leasing activity due to their discounted pricing and large availability of space. Most importantly, it means that Metro Phoenix is doing well.  Local businesses here are growing and out of state companies are relocating here to take advantage of the great resources Arizona offers.
 
Below is a link to our Lee & Associates 3rd Quarter Report and as usual, I've included my top takeaways below:
 
1.       The Camelback Road Corridor Comeback- After being negative over the past several quarters, the Corridor finished 2nd in net absorption this past quarter, only behind Tempe. The demand for Class A space with tons of amenities has resulted in the highest average asking rates in Greater Phoenix at $30.14/SF/YR
2.       Spec Construction Doing Well- In addition to the build-to-suit projects, there are eight speculative projects underway. They all have great activity.
3.       Substantial Renovation Construction- In an effort to appeal to today's tenants, there are four projects totaling 827,000 SF, all undergoing major renovations, all near Tempe and the airport. 
While this quarter saw minimal large (100k SF and bigger) leases executed, there are a number of large users in the market today which will help us finish 2016 with strong momentum. If you have a question on your lease, want to find out how much your building is worth, or just want to talk about the market, please give me a call.

602.954.3769
acheney@leearizona.com


P.S.- This October, Lee & Associates AZ is celebrating our 25th Anniversary. Coppola-Cheney is proud to have been here from the start, and we look forward to what the coming years hold.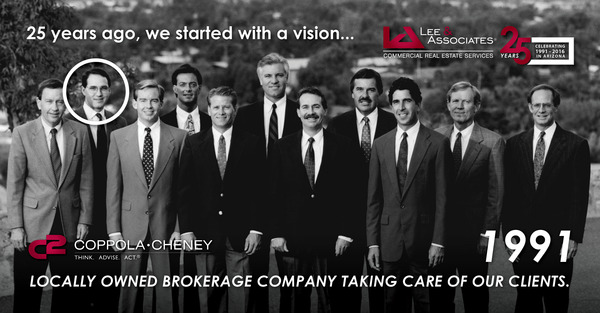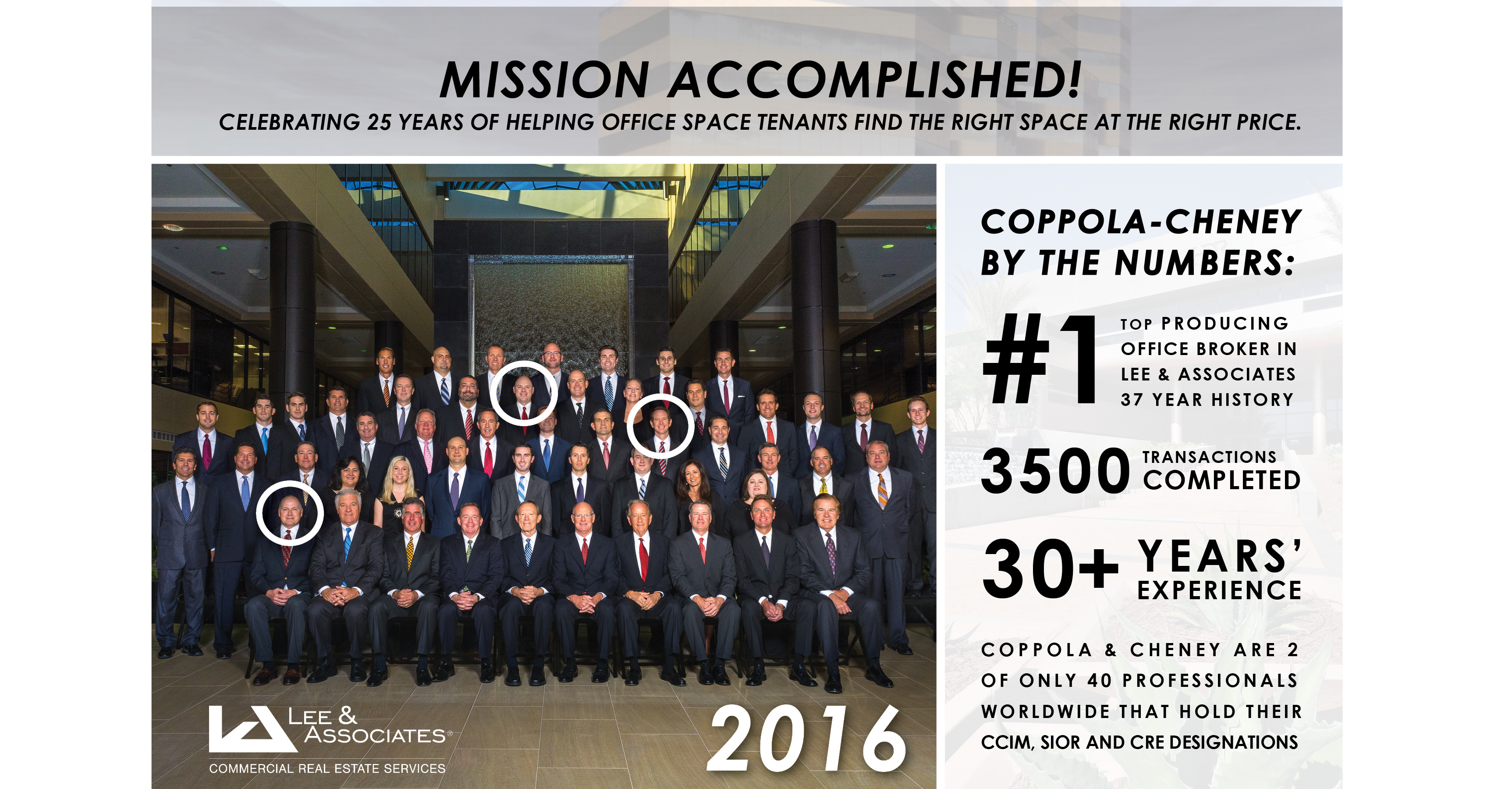 ---