Finally, some good news. The Metro Phoenix Office posted just under 800,000 SF of net absorption for the third quarter. A significant number of the tenants I talked to while canvassing buildings have either just expanded or are considering expanding in the near future. Despite the strong absorption, vacancy remains high at 21.6% across the entire market. Except for South Scottsdale, Tempe and parts of the Camelback Corridor, rents have stayed flat and will continue to remain there until we fall below 20%. Both Craig and I thought we would be hitting the 19% range heading into the fourth quarter. Looks like 2015 will now be the year to hit the teens in vacancy, something we haven't seen since 2007.
 
Below is the link to our third quarter report and my top three takeaways:
 
    1. 800,000 SF of net absorption is a big news. We are on track to hit 2.5 million SF for the year, which coincidentally is slightly above our 25-year average. So while we think this will be a historically average year, given the recent years of low and negative absorption, we are grateful for this amount of net absorption.
    2. Surprisingly, we have 876,000 SF of speculative office under construction and all of these projects either have preleasing or very good activity. A growing number of owners in Northeast and Southeast Valley submarkets have enough confidence in the market to take a big risk, and they are being rewarded for it . Note there is another 1.5 million SF under construction of build-to-suits including State Farm and Wells Fargo.
    3. Activity is growing in Scottsdale. The collective Scottsdale submarkets as a whole posted five times as muchabsorption in Q3 as they did in Q2. This means Central and North Scottsdale have caught some of the fire South Scottsdale has shown. All three Scottsdale submarkets (16.6 million SF) make up 20% of the Metro Phoenix market. Year-to-date, they account for almost half of the entire market's net absorption.
I, for one, am looking forward to finishing the year relatively strong and experiencing more robust job growth in 2015.
Andrew
602.954.3769
acheney@leearizona.com
P.S. Below the Q3 2014 Phoenix Office Market Report is an article with a quick update on our Job market and projections for the remainder of the year. The title of the article below says it all…Hopes for Strong 2014 Job Growth Slipping Away in Arizona.
---
For the entire report, click here.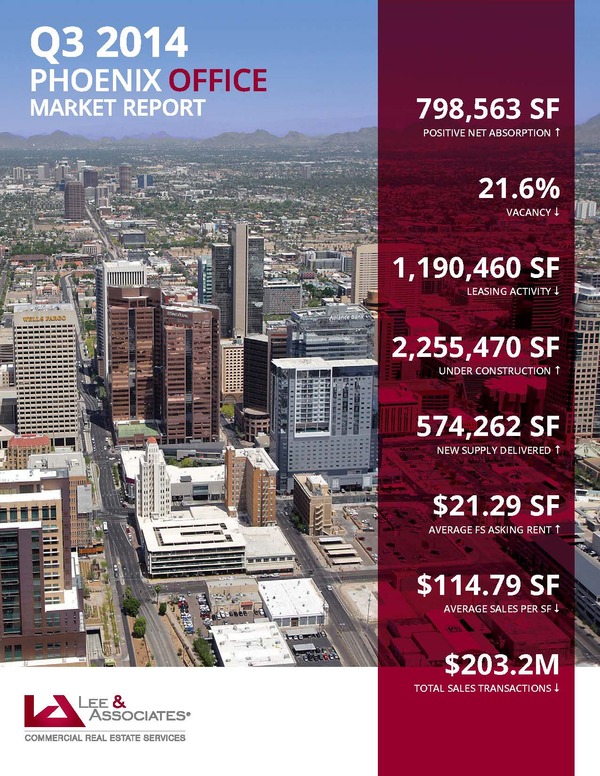 Hopes for Strong 2014 Job Growth Slipping Away in Arizona

By: Ronald J. Hansen
October 17, 2014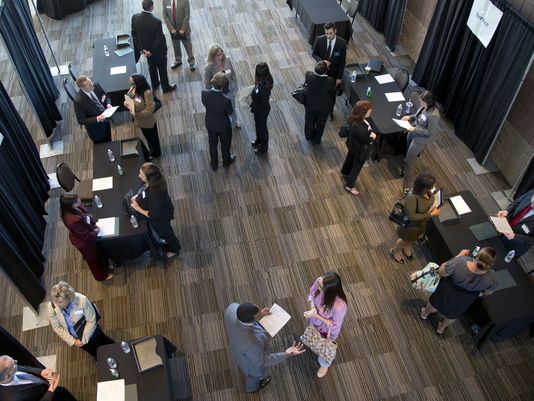 Over the past 12 months, Arizona has seen 2.1 percent job growth,
a little better than the nation as a whole and
below the 2.5 percent figure some thought the state could reach in 2014.
(Photo: Cheryl Evans/The Republic)
A hoped-for bounce-back in Arizona jobs this year increasingly looks like wishful thinking.
The state's unemployment rate officially fell to 6.9 percent Thursday, with Arizona gaining 28,800 net jobs in September.
But the increase largely was the result of teachers and other education-related staffers going back to work. The state's private-sector employers added just 1,900 jobs last month, with many of those in health care.
Arizona's jobless rate was 7.1 percent in August.
Over the past 12 months, Arizona has seen 2.1 percent job growth, a little better than the nation as a whole and below the 2.5 percent figure some thought the state could reach in 2014.
The state has hovered around 2 percent annual growth for the past three years, and with three-quarters of 2014 in the books, that seems the path again, economists now say.
"Two percent is definitely where we're headed for 2014," said George Hammond, director of the Economic and Business Research Center in the Eller College of Management at the University of Arizona. "To put that in some perspective, our 30-year average is 4.1 percent."
Those better years typically are driven by solid gains in construction, an industry that pays above-average wages and grew rapidly during the state's housing boom.
Now, however, the industry has shrunk to 1994 levels — and is still losing workers. Those losses continue to pull down the state's economy.
 
Few signs of growth
From construction to manufacturing to the aerospace and defense-related industries, Arizona's traditional sources of growth aren't picking up.
The plodding pace means Arizona ranks near the bottom nationally in recovering its job losses from the Great Recession.
Arizona's unemployment rate remains 1 full percentage point higher than the nation's.
Jeffrey Kravetz, regional investment director for US Bank Wealth Management in Phoenix, said that Arizona isn't attracting new residents as it normally does and that Millennials, young adults who should represent the next wave of homebuyers, aren't buying in large numbers.
"There's not a huge demand for single-family homes," he said.
Arizona's tepid recovery is similar to the soft recovery in California and other states where real estate has outsized value, Kravetz said.
Aruna Murthy, director of economic analysis for the Arizona Office of Employment and Population Statistics, said the state has now regained 62 percent of the jobs it lost in the downturn.
By contrast, in May, the nation as a whole got back to the employment level it had when the recession began in December 2007.
Through August, only three states had fared worse than Arizona by that measure.
 
Little growth in September
Across the state and in most industrial sectors, employment was little changed in September.
"The private-sector didn't do as well as expected, but government did better than expected," Murthy said. "I would have wanted a better private-sector report."
Drinking establishments, for example, posted their worst September in five years. Leisure and hospitality more broadly continued a five-year trend of smaller job gains in September.
And construction continued to hemorrhage jobs, losing an additional 2,900 last month. Over 12 months, that industry has lost 8,300 jobs, easily the worst in the state.
Over the past year, the state has gained 53,200 non-farm jobs. Of those, 49,700 were in the private sector, and the rest were in government.
 
Bright spot: Health care
Ambulatory health-care services, the kind of work often done in clinics, was the largest share of the fastest-growing sector. Hospitals and nursing care also posted solid gains.
One example: Abrazo Health, which includes six acute-care hospitals and other facilities, hired 1,165 employees from October 2013 to September 2014. It currently has about 4,300 employees.
After that, employment services, which includes temporary workers, was among the sectors that saw the most employment growth.
Murthy said the number of temporary workers is still climbing, which typically signals the economy isn't growing as it did a decade ago.
Other recent disappointments have hobbled Arizona's recovery.
In September, Tesla Motors formally announced that it picked Reno over Arizona and three other states for its planned battery factory.
On Thursday, GT Advanced Technologies, the company Apple paid to make sapphire glass at a factory in Mesa, announced 727 layoffs as part of a bankruptcy that began earlier this month.
The new jobs numbers shouldn't suggest panic or near-term prosperity, Murthy said.
"If you ask me, it's the same September as last year," she said. "At least we're growing 2 percent. Some states aren't even doing that."
As late as October 2007, Arizona's unemployment rate stood at 3.8 percent, almost 1 full percentage point lower than the nation's. Arizona's unemployment rate rose above the national average in June 2008 and has stayed higher ever since.
Nationally, 248,000 jobs were added in September, better than what many analysts had expected.
Also on Thursday, the U.S. Labor Department announced that initial jobless claims nationally had fallen to a 14-year low.
Still, the labor-force participation rate has fallen to its lowest level since 1978, a factor that has helped bring down the unemployment rate without more robust hiring.
 
Better days ahead?
In some ways, the job report already seems a worryingly late measure of the economy.
Markets around the globe have been churning for a week on fears of a recession in Europe.
Looking toward next year, UA's Hammond believes 2015 already is shaping up to be little better than 2014.
Kravetz said the U.S. economy seems to be gaining strength, even if Arizona isn't seeing faster growth. He said that oil prices may lift consumer spending in the near term.
As recently as June, crude oil went for $115 a barrel. Now, it costs $83, a decline that consumers should see at the pump.
"That's a huge boost for consumers. They will spend that at the mall," he said.
Some employers, especially in retail, are already expecting a surge in customers.
With holiday shopping around the corner, the Phoenix market has been hiring in slightly greater numbers for several weeks, said Sherri and Charles Mitchell, founders of All About People, a Phoenix-based recruiting and staffing firm.
Many of the jobs are in retail and are seasonal in duration, Sherri said.
"Beyond the holidays, I think there's a little more skepticism," Charles said. "There's a lot of uncertainty out there."
Data: Job growth by industry sector
Arizona isn't growing as fast as it usually does or as fast as economists had projected earlier this year.
Here is job growth by major sector over the past 12 months:
Education* and health services: 17,200 jobs.
Professional and business services: 14,400 jobs.
Leisure and hospitality: 9,200 jobs.
Financial activities: 8,400 jobs.
Trade (retail), transportation and utilities: 5,400 jobs.
Government**: 3,500 jobs.
Other services: 2,300 jobs.
Manufacturing: 400 jobs.
Natural resources and mining: 400 jobs.
Information: 300 jobs.
Construction: -8,300 jobs.
* Includes for-profit education companies. ** Includes public and charter-school teachers.
Source: Arizona Office of Employment and Population Statistics