I love entrepreneurs. I have no idea if this will work, but I saw this company and looked over the website and thought what a creative mind. AND of course, what creative office space. Blueseed (http://blueseed.co/) is a group trying to raise money to build a ship that will sit 12 miles off the coast of California to house startup companies and their visionaries. For a couple grand a month, you can have a room and a place to work. No financial services are permitted (can you say, "tax evasion?"). This was announced in 2012 and it looks like there are no major investors today.
Plans call for:
–1,000 startup companies
–With a H-1B visa (mandatory), you can visit the U.S. 180 days per year
–"Enhancers" like accountants, attorneys and other consultants will be on board
–Blueseed will take an equity position in the startup companies in addition to the rent
I have pulled a number of the renderings from the website, take a look along with a summary article highlighted for ease of perusal. I just thought I would get you outside the box for a few minutes this week.
Craig
602.954.3762
ccoppola@leearizona.com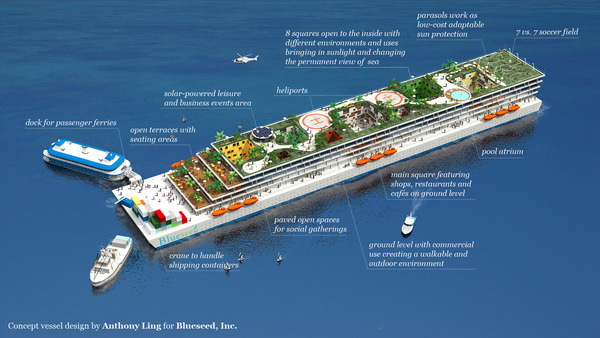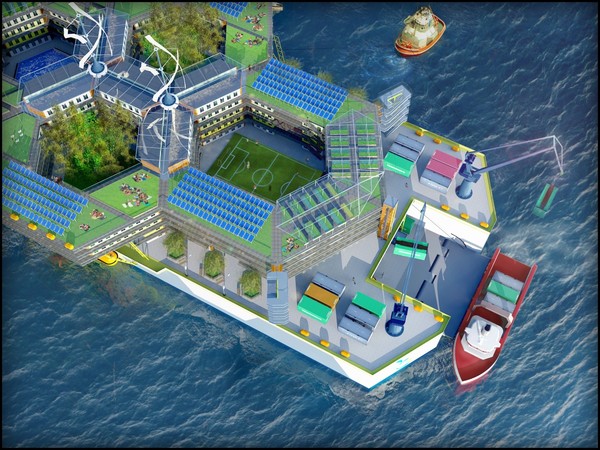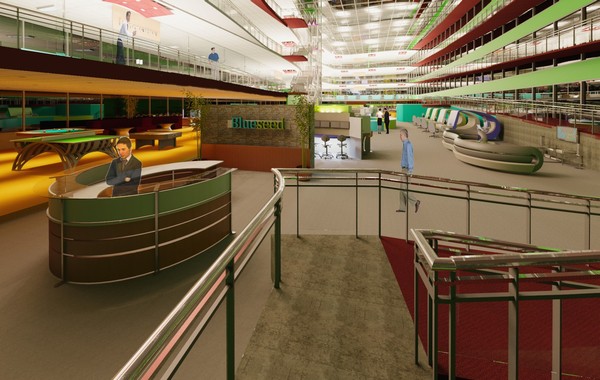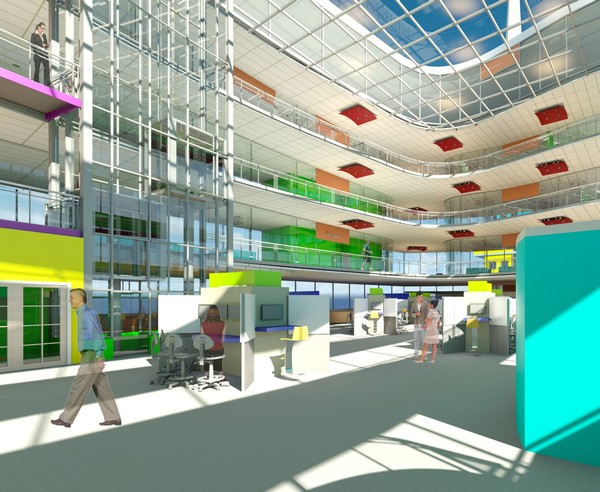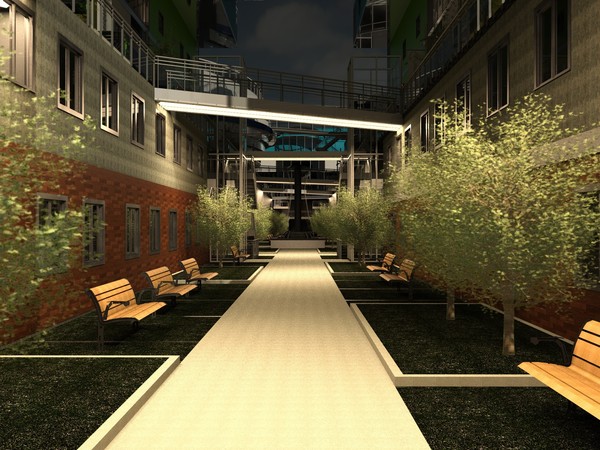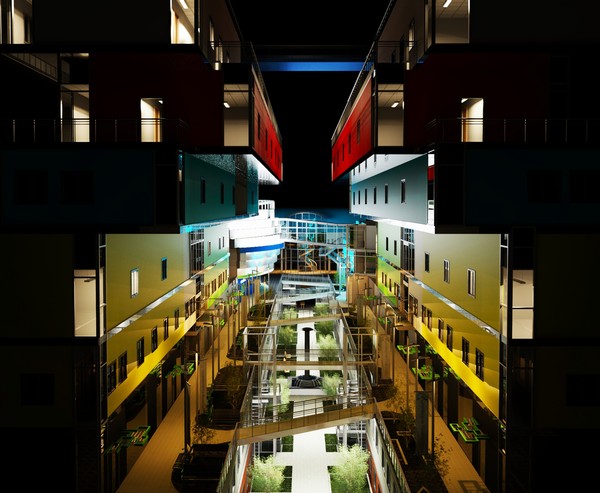 Blueseed Builds Floating Office For Tech Startups
Blueseed plans to turn a cruise ship into a floating office park anchored in international waters 12 miles from Silicon Valley, providing a home for technology startups and other entrepreneurs who can't qualify for U.S. work visas.

By: Kevin Casey
June 6, 2012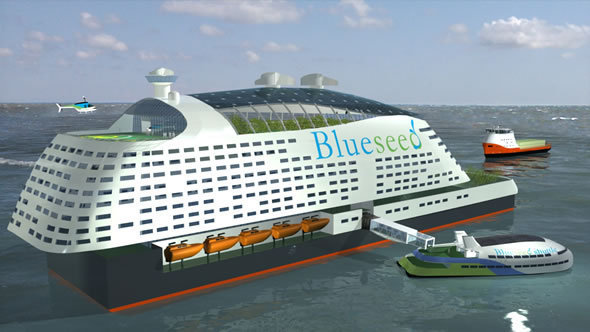 At quick glance, it's the stuff of real estate gold: 360-degree ocean views! Amazing amenities! Catered meals! A 30-minute commute to the heart of Silicon Valley! The location isn't quite ready for occupancy, but it has a select group of residents in mind: High-growth entrepreneurs who want to be close to the technology capital of the world–and the financial capital that funds it.
The address? That's a bit trickier. It's a boat anchored 12 miles off the California coast. Blueseed, the startup behind this marine utopia, hopes to build a community there comprised of the boldest and brightest entrepreneurs from around the globe. But why would the next generation of bright technology minds choose the Pacific Ocean over a, well, normal address?
"There is no work visa for entrepreneurs," said Max Marty, Blueseed's CEO, in an interview. "There is no way for someone who wants to come [to the U.S.] and start their own company to do so legally." H-1B visas must be sponsored by an established U.S. employer; there is no equivalent for a non-U.S. citizen who wants to found the next Google or Intel on American shores. "We're sort of in this ridiculous situation where people want to come here to create companies and technologies and [jobs], but we're not allowing them to do this," Marty said, himself the son of Cuban immigrants.
Blueseed believes it has a solution: A commercial and residential compound that floats just beyond the invisible line that marks international waters, a dozen miles from the harbor in Half Moon Bay, Calif. "Things like visa regulations do not apply to individuals who are out there," Marty said. "You can legally work on [starting] a company, you can earn a paycheck, you can do all of those wonderful things as long as you are at least 12 miles from shore."
This is no free-for-all–among the basic prerequisites for any prospective tenant is a valid B-1 business visa. This allows its holder to spend up to 180 days a year in the United States. While it prohibits employment, it does allow entrepreneurs to meet with potential investors, go to networking events, and conduct other types of business in a perfectly legal manner. A 30-minute ship-to-shore ferry commute will put Blueseed's residents on the road to places like Palo Alto, Mountain View, and San Francisco.
If all goes to plan, though, Marty and his fellow executives believe the real action will occur on board. The flagship has room for some 1,000 entrepreneurs, plus crew members and a host of "enhancers" such as accountants, intellectual-property attorneys, and other consultancies–much like a land-based business incubator might offer. The ship will feature just about every service and amenity you can imagine: Onboard medical services, a concierge, 24-7 security, full-service gym, dining, shopping, and a variety of entertainment options. A certain number of rooms will be set aside as a hotel of sorts for overnight visits from investors, media, musicians and other artists, and similar guests.
Marty envisions Blueseed's own, oceanic version of the famed Google Talks series. He has also met with administrators at UC Berkeley's Haas School of Business to discuss opening a satellite campus on board. In its ideal incarnation, Blueseed will become its own micro-version of Silicon Valley itself, flush with intellectual and financial capital. "The environment on board will be such that people won't want to leave," Marty said.
Blueseed's first critical challenge in achieving that ideal: Like any community, the boat's success will depend on the quality of its resident businesses. Blueseed will have a direct interest in who comes aboard; it's not simply a landlord, but an angel investor at sea. In addition to collecting roughly $1,600 average monthly rent per person–not bad for an oceanfront apartment in the Bay Area–the company will get an equity stake in each of the startups on board.
"It's up to us to help these companies succeed and create an environment that's actually fostering their growth," Marty said. "It makes us want them to grow to the point where, at some later stage in the future, they can have a liquidity event." As a result, the application process will be competitive and may require a referral from a reputable venture capitalist or other investor. Roughly 260 startups have expressed an interest in moving onto the Blueseed boat, which plans to drop anchor in late 2013 or early 2014.
Some types of businesses need not apply–they're not necessarily bad ideas, but they clash with Blueseed's second fundamental challenge, what Marty calls the "managing the entire political apparatus" that comes with their venture.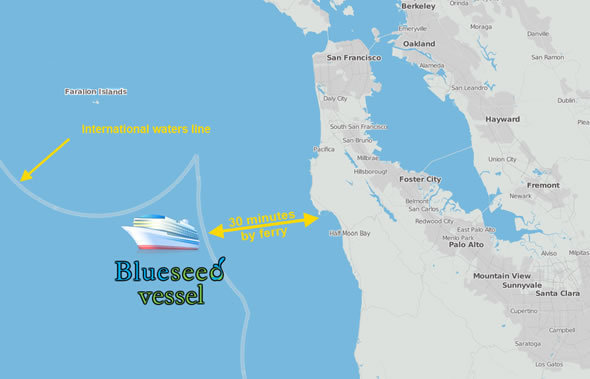 Blueseed's principals are well aware that the concept of a boat that drops anchor 12 miles offshore so its residents remain exempt from certain laws could ruffle the wrong feathers. Just the word "offshore" generates all sorts of thorny political, economic, and legal connotations.
As a result, transparency is tantamount to Blueseed's success. The company has already turned away some potential tenants simply based on what they do. Anything in the broad industry bucket of "financial services," for example, is a no-go; the mere whiff of tax evasion or other improprieties sends the Blueseed team sprinting in the opposite direction.
"It's very important for us to have a proactive stance in talking to constituencies, policymakers, and everyone who will be affected, so that everybody is very clear about what we're doing," Marty said. "This is for entrepreneurs. This is not for existing companies to go and outsource their employees."
Marty added that Blueseed will be a stopping point rather than an end point. The goal, he said, is to foster the startups until they're large enough that U.S. Citizen and Immigration Services "takes them seriously" and an organization is better equipped to go through the process of becoming a land-based employer. "That is our goal and it's very important to be open and upfront about that because it's such a novel project," Marty said, adding that the early feedback from lawmakers and their staffers has been generally positive.
Marty's right: It's a novel idea, but not one without precedent. The gaming industry took to water, too, from casinos on major cruise lines, to local party boats, to riverboats that don't actually ever leave the dock. All share a common trait: They're able to operate gambling businesses just beyond the jurisdiction of local and federal law. The parallel's not lost on Marty, though he notes many of those businesses do their best to operate in relative secrecy because blackjack and dice, simply put, have an image problem. Blueseed has no interest in a similar PR strategy.
"Because we're doing something that's so novel and in-your-face, we need to be as clean and as free of issues and problems in every other sphere as possible," Marty said. Blueseed is steering clear of anything and everything that might put it in murky legal waters or otherwise raise a regulator's eyebrow. (Prospective tenants should certainly not expect a casino among the onboard attractions.)
Blueseed's stated mission taps into the collective hair-pulling over the American economy. It cites, for example, a variety of stats on how startups create millions of jobs–a smart strategy as the U.S. continues to fret over high unemployment and its place in the world of technology and innovation. On its website, Blueseed points out that the boat itself will become its own economic engine: "We'll create an entirely new supply chain, which will result in new jobs in the area around Blueseed's supply lines and ferry port (Half Moon Bay, California). All these goods are going to come from [the] mainland, not from abroad." The company notes, too, that residents will frequent Bay Area businesses and pay California sales taxes while on land.
And, like any viable startup, Blueseed seeks to fill a market need: Lots of entrepreneurs want to hang their shingle in Silicon Valley but can't simply because of their passport. To be sure, there are plenty of other technology and startup hotbeds, around the U.S. and worldwide. None have quite the same allure.
"Silicon Valley is known as the most fertile ground in which to plant the seeds of a startup," Marty said. "Perhaps not the only one, but certainly the best."