If you want to attract top talent, listen to the demands of the workforce. More and more, companies are living by this golden rule, making changes to their workplace to reflect the unique wants and needs of incoming employees. 
We've discussed this trend in previous narratives, and now we are seeing those changes take shape in the workplace. ADP has a new report out called "The Evolution of Work: The Changing Nature of the Global Workforce." The infographic summarizing the 19 trends is below my comments, and you can click here to read the full article.  
Here are a few key items that we see with most of our clients as they renew and relocate their offices:
 
—Mobility: Employees want to, and will be able to, work from anywhere in the world. How this translates to office space is part of every discussion we have with our clients.
—Retirement is not mandatory: People will get to retire when they want. Creating spaces that can handle 3-4 different generations and their work habits is on the table.
—Search for talent:  Finding a great team continues to be one of our clients' biggest challenge.  Almost all our clients are now using their offices as recruiting tools.
 
Keeping abreast of all 19 trends and how they fit into our clients' office space is what we do.  Call me if you want to continue the discussion.
---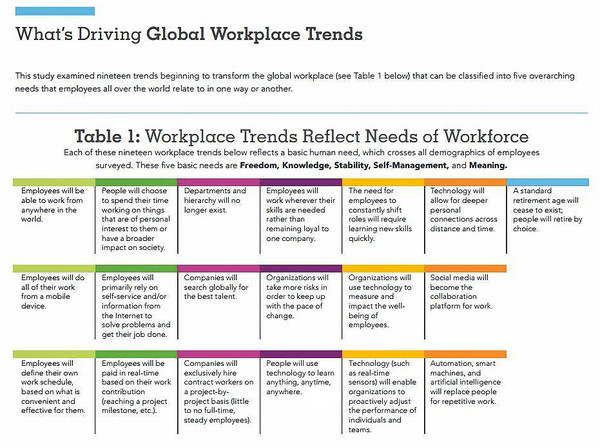 From ADP's "The Evolution of Work"