Over the next two days, we will review 12 different technology companies that are in the commercial real estate space. Before I look at the companies that are trying to take business from commercial brokerage companies, a little background is necessary. I want to break the commercial brokerage industry down into two key segments: leasing and investment sales. In the leasing business, there are very limited roads to automating the process. Lease negotiations are local and specific to submarkets, projects, and type of building. Each negotiation is distinct and a quality broker can and does make a huge difference. On the other hand, investment sales are becoming more commoditized. National brokers take listings outside their market, fees have been compressed, and the process is much easier to automate because the price and terms, for the most part, are public. Putting all the due diligence materials into e-vaults has become the norm.
The focus of this narrative series is leasing, but let me talk a bit about the investment sales business over the past 10 years. Today, like many maturing industries, there are a number of highly seasoned, highly qualified, and highly skilled investment brokers around the country. Over the past decade, they have shunned working solely in their own markets and have smartly staked out niches (huge sales, NNN leased properties, portfolios, etc.) and/or focused on building relationships with companies that have large holdings and are likely sellers in the future. Once they get listings outside their home base, they bring on a local leasing broker for insider market info and away they go. This has compressed the commissions on large sales opportunities.
From the leasing side, almost all tech companies have failed and gone out of business with the exception of one–CoStar. On Friday, l will focus on CoStar, but for today and tomorrow, we are going to review a few of the startups that are trying to nibble away some brokerage fees or just create a new area of service.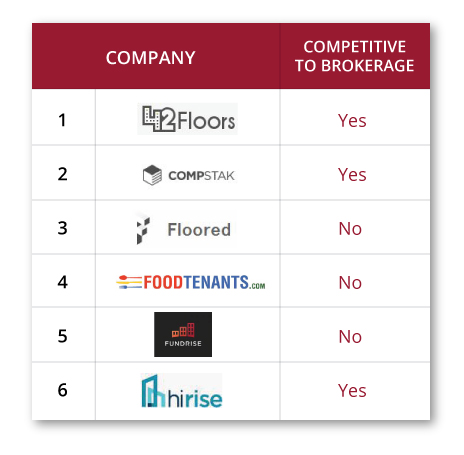 Craig
602.954.3762
ccoppola@leearizona.com
---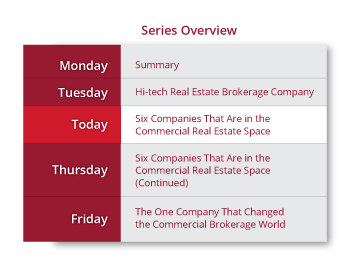 Company Name: 


http://42floors.com/
Upper Management:
Jason Freedman, Co-Founder
Darren Nix, Co-Founder
Justin Bedecarre, Co-Founder
Aaron O'Connell, Co-Founder
Jon Bracy, Co-Founder
James Bracey, Co-Founder
Ben Ehmke, Co-Founder
Business Strategy: 42 Floors makes money by selling products and services through its showroom site; and accepting referral fees through its Tenant Rep referral program. Other revenue sources are to be determined.
Location: San Francisco, California
Funding: Most recently from $12.3 million in Series B funding from groups such as Bessemer Venture Partners, Thrive Capital and Columbus Nova Technology Partners.
http://www.thequantumcapitalfund.info/42-floors-secures-5m-from-y-combinator/
http://pando.com/2013/01/31/finding-office-space-sucks-42floors-gets-12-3m-to-make-it-less-so/
Competitive to brokerage: Yes, 42 Floors gives out information, formerly proprietary to brokers, to mostly 1,000 to 5,000 SF users. This size range could grow, affecting more brokers.
Company Name: 


http://www.compstak.com/
Upper Management:
Michael Mandel, Co-Founder CEO
Vadim Belobrovka, Co-Founder CTO
Business Strategy: Compstak sells commercial lease data to commercial landlords and institutions.
Location: New York City, New York
Funding: $4.45 million to expand nationwide from Canaan Partners, $1.25 million in funding from companies like Expansion VC, Ryan Slack, and 500 Startups.
http://therealdeal.com/blog/2013/04/10/comp-crowdsourcer-compstak-secures-4-5m-in-new-funding/
http://www.bizjournals.com/sanjose/news/2013/04/10/commercial-re-data-startup-compstak.html
Competitive to brokerage: Yes, to an extent. Building owners and tenants may try to buy lease comparables from Compstak, versus hiring a broker. Lease comparables have traditionally been the currency of real estate brokers.
Company Name: 


http://floored.com/
Upper Management:
Dave Eisenberg, Co-Founder and CEO
Dustin Byrne, Co-Founder
Judy He, Co-Founder
http://www.thenewsfunnel.com/video/exclusive-interview-david-eisenberg-founder-and-ceo-floored
Business Strategy: Capitalize on owners who want to market their vacancies more effectively. Floored is bringing the ability to visualize office properties online without having to actually travel to them. This is done through 3-D modeling in first-person view or a fly-over view. They service companies all over the U.S. and have even serviced a company in London.
Location: New York City, New York
Funding: According to Pandodaily, Floored has been backed by a $1 million seed funding from Lerer Ventures, Felicis Ventures, Brooklyn Bridge Ventures, Red Swan Ventures, Two Sigma Ventures, Dave Vivero, and Thomas Lehrman. On top of that, they received $5.3 million in a Series A funding headed up by RRE Ventures.
http://pando.com/2013/01/30/floored-unveils-3d-modeling-for-real-estate-in-the-form-of-an-app/
http://www.vcpost.com/articles/20015/20131219/nycs-floored-secures-5-3m-series-round-develop-3d-modeling.htm
Competitive to brokerage: Floored probably will not be competitive to brokerage companies. Floored is a tool to better understand office space design.
Company Name: 


http://www.foodtenants.com/
Upper Management: (Not Available)
Business Strategy: The FoodTenants.com database contains more than 1,000 national and regional restaurant chains and emerging food concepts looking to expand. Landlords submit property information and the website generates a list of potential tenants looking for similar sites. The directory gives landlords access to tenants' real estate criteria and contact information and provides projected openings, growth opportunities, and site criteria for tenants and real estate decision makers. Users can search for properties by state, targeted growth markets, tenant's ideal building size, and by company name. – See more at: http://www.ccim.com/cire-magazine/articles/323625/2014/09/resource-guide#sthash.VXxRRiaO.dpuf
Location: (Not Available)
Funding: (Not Available)
Competitive to brokerage: Retail brokers have been using this kind of direct contact for years. Large multi-site/multi-state owners talk directly to large multi-site/multi-state users. And yet, brokers continue to represent the tenants. This company will push this same dynamic to smaller tenants.
Company Name: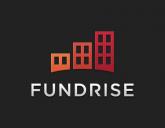 https://fundrise.com/
Upper Management:
Benjamin Miller, Officer
Daniel Miller, Officer
Brandon Jenkins, Officer
Kenneth Shin, Officer
Business Strategy: Fundrise is the leading online real estate investment and crowdfunding platform. Starting in 2010, Fundrise was the first company to take commercial real estate public online and offer true equity ownership in local properties. Fundrise offers real estate investments for both accredited and unaccredited investors, and allows real estate companies to build their investment network and raise investment online through a full service, web-based platform. Fundrise reduces the costs associated with traditional real estate investment by cutting out unnecessary middlemen and making the process more efficient.
Location: Washington, D.C.
Funding: Raised more than $31 million in its first round of funding from a group of prominent technology companies, real estate firms and other backers.
http://www.thenewsfunnel.com/companynewschannel/fundrise
Competitive to brokerage: Not really, this platform needs deal flow and brokers will be their primary source.
Company Name: 


http://www.gohirise.com/
Upper Management:
Dave Adams, Co-Founder
Alex Lassar, Co-Founder
Andy O'Brien, Co-Founder
Business Strategy: As a Jones Lang LaSalle-backed startup, HiRise is sometimes referred to as the "Airbnb" of office space." HiRise focuses on smaller companies looking for leasing situations that don't lock them in for the long term when the future of the organization isn't readily known. HiRise will initially cover the Washington D.C. area exclusively, but that should be enough for a good start. There are 25,000 leases of less than 5,000 square feet in D.C. alone, so there are legions of potential users in the area. HiRise works by allowing companies to research different listings by size and price to find the deal that's best for them. It even allows its users to complete their leases online.
Location: Washington, D.C.
Funding: JLL is the venture capital.
http://www.thenewsfunnel.com/blog/hirise-repping-little-guys#sthash.s6Rnlymy.nH55rYxI.dpbs
Competitive to brokerage: Yes. New and young brokers cut their teeth on smaller transactions. Older brokers use smaller transactions as bread and butter to feed the family business. If this company takes off, it will be competitive.