While there are some crazy numbers on the below graph (52,000 brokers at CBRE), I found the information pretty interesting. There is a huge market consolidation occurring in the commercial real estate brokerage sector. We see this continuing as firms try to keep pace with global market coverage and try to be all things to all clients.
 
Since 1979, the Principals at Lee & Associates have been owners of our company. We are personally committed to taking care of our clients. And we still believe our ownership model of accountability will survive and thrive in the post consolidation world. Call me anytime to learn more about how we serve our clients differently, to see how we can serve you.
Craig
602.954.3762
ccoppola@leearizona.com
P.S. Over the past month, we have talked about the national market and our local Metro Phoenix market. If you are one of those that can't get enough of market data, today is your lucky day. Click here to view our 37 page national Q2 2015 office market brief. I find it very interesting, but then again, I am one of those people.
---
2015 Top Brokerage Firms
Continuing Consolidation
Be sure to check out our podcast examining trends in the brokerage sector.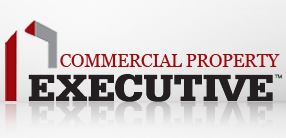 By: Mike Ratliff
July 10, 2015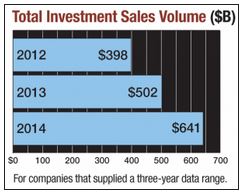 The last seven months in the brokerage sector were defined by M&A activity. Apartment heavy hitter ARA rolled into NGKF on Dec. 1, 2014. Meanwhile, an investment consortium bought DTZ and then folded in Cassidy Turley. Its sights then fell on Cushman & Wakefield—which had just acquired New York City specialist Massey Knakal in January—scooping it up in mid-May.
Among the major food groups, office had the biggest year on the investment sales market, with firms reporting $133.8 billion in such transactions. That's about 36 percent of the total investment sales volume disclosed for 2014. Multi-family secured the second spot with about 20 percent of activity ($67.3 billion), followed by retail with 17 percent ($53.9 billion). A marked uptick was seen in the hospitality sector, which captured 12 percent ($42.3 billion) of the total investment sales volume. Last year, hospitality accounted for just 7 percent of activity.
These firms also detailed 2.7 billion square feet of leasing activity. We are happy to report that the total square footage leased increased by 8.2 percent from 2013 to 2014. From 2012 to 2013, this square foot value increased 8.4 percent, so perhaps a slowdown in growth is on the horizon.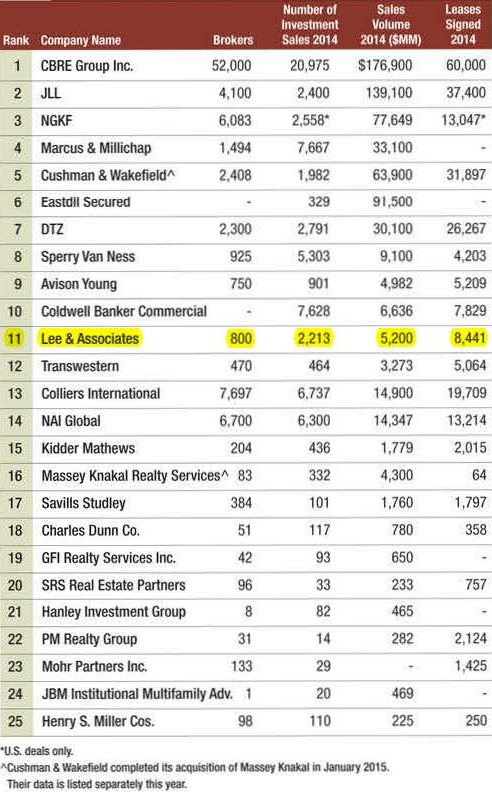 Methodology
The CPE-MHN Index of the Top Brokerage Firms is based on information collected from a survey. No single factor determines the ranking. For this index, we examined how firms have performed over time, using factors like investment sales and leasing activity, as well as the range of sectors covered. All firms in our index are industry leaders in some sense. Some have a strong following in just one sector; others have demonstrated leadership in LEED buildings and services.
---