Over the years, I have leased space to several executive suite operators. These "tenants" lease a large amount of space, then re-lease it to small tenants sharing conference rooms, administration services, etc. During the last recession, most of them closed down leaving a specialized kind of operator – small, local and personal. Regus is the only international company that made it through a bankruptcy and has survived.
Below is an article about WeWork, a Regus-type company, that is trying to get startups and other companies that want all the cool features of the new office space design we talk about frequently in this narrative. They are creating cool spaces, BUT……
They raised $355 MILLION dollars putting their valuation at $5 BILLION. Unreal. This company is a total longshot. When the tech startup market crashes – and it will – this company will be looking to find others to fill its space and that is not going to happen. Here are reasons why this company is not one I would invest in:
–Startups fail at a rate of over 90%. This is the market they are targeting.
–Startups have no money. 
–Monthly lease payments come each and every month. They are an unrelenting master and not cyclical.
–Regus can take some of its current space and reconfigure to meet this demand.
–The executive suite business is very tough to compete in. Knowing how to make money is learned.
–The markets in which they are opening are the only markets in the US that have enough of this kind of tenant to lease their space. Rolling out across the US is problematic.
 
Let's all watch this company and when the first cracks in the tech market appear and it starts to slow down we will see what happens. Just my opinion.
And speaking of opinions, if you want our opinion on the market or your lease, just reply or call me.
Craig
602.954.3762
ccoppola@leearizona.com
---
WeWork: Now a $5 Billion Co-Working Startup
Rich Price for Four-Year-Old Office-Sharing Company With Big Ambitions



By: Lindsay Gellman and Eliot Brown
Date: December 15, 2014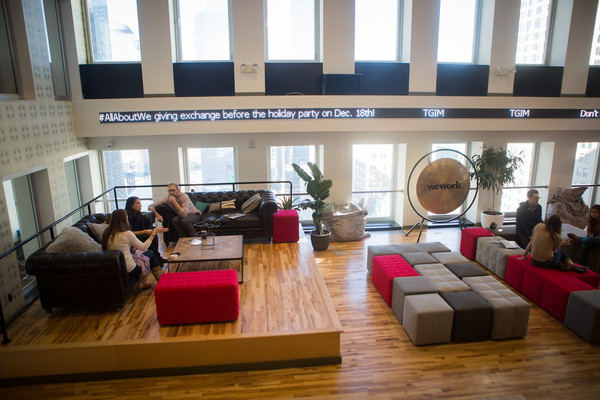 WeWork customers in the lobby of its Fulton Street offices in New York.
The startup's backers liken it to sharing-economy firms rather than co-working space competitors
like Regus and RocketSpace. 
CASSANDRA GIRALDO FOR THE WALL STREET JOURNAL

WeWork Companies Inc., a provider of shared office space, believes it can be as transformational to its industry as upstarts like Airbnb Inc. and Uber Technologies Inc. are in travel and transportation.
The four-year-old company, which divvies up rented office space and sublets largely to startups, said on Monday it closed a $355 million funding round. The deal values the company at about $5 billion, said people close to the matter.
The valuation puts the small New York-based company in the same league as social bookmarking site operator Pinterest Inc. and media and Internet company IAC/InterActiveCorp.
Adam Neumann, WeWork's 35-year-old co-founder, hopes to make the company a hothouse for new business formation—by bringing together entrepreneurs who share space, office services and, potentially, ideas.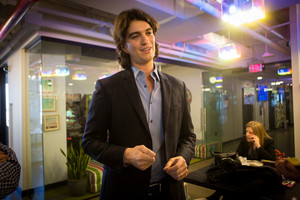 Thirty-five-year-old Adam Neumann co-founded WeWork, which is now valued at about $5 billion.
CASSANDRA GIRALDO FOR THE WALL STREET JOURNAL
"We happen to need buildings just like Uber happens to need cars, just like Airbnb happens to need apartments," Mr. Neumann said in an interview.
The latest financing was co-led by funds and accounts managed by T. Rowe Price Associates Inc., clients of Wellington Management, and Goldman Sachs Group, according to WeWork. Investors from prior rounds including J.P. Morgan Chase & Co., Harvard Management Co. and Benchmark also participated, according to WeWork.
"If I showed you their cash-flow statement, you would not compare it to a real-estate company," said Henry Ellenbogen, a portfolio manager at T. Rowe Price. "You'd compare it to a brand or tech company—maybe Chipotle or Uber."
Unlike its closest competitors, WeWork has a new-era sheen, its own mobile app, and deliberately chose to place properties in hot areas like Washington, D.C.'s Shaw neighborhood.
Viewed as a traditional real estate venture, WeWork's valuation wouldn't be nearly as rich, Mr. Neumann acknowledges.
Still, WeWork's investors are "really not looking at the real estate," he said. They see it as a force for upending small-business office rentals with a new model providing sleek furnishings and plenty of collaboration.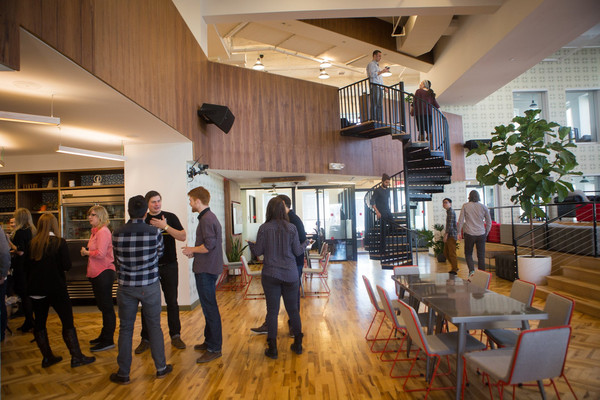 WeWork members socialize in the lobby of the office-sharing company's New York headquarters this week.
CASSANDRA GIRALDO FOR THE WALL STREET JOURNAL
Mr. Neumann said the company's app, which serves as an internal directory and allows WeWork customers to communicate idea and applicants, also provides information on events like regular happy hours—touchstones of the work community it aims to foster.
WeWork said its December revenue puts it on an about $150 million annual revenue run rate. It also said the month's annualized operating income puts its valuation at roughly 100 times income. It expects to grow significantly in years ahead, which would lower that ratio. Landlords typically trade between 18 times and 20 times earnings, according to Jed Reagan, an analyst at real estate consultants Green Street Advisors.
Regus PLC, the shared office space company that offers more traditional office space than WeWork, has a market capitalization of about $2.8 billion and 2013 operating profit of about $150 million. Regus went public in 2000, and its market value today is about half its dotcom-era peak at more than 360 pence a share.
WeWork said it has leased about 1.6 million square feet in New York, making it the fastest expanding company by footprint in the city since 2010. In all, it expects to have about 3.5 million square-feet globally by the end of 2015, total space larger than the Empire State Building. Also in the works is living space, akin to a high-end dorm for 20-something workers, people briefed on the company's plans said.
Dozens of firms offer space to those willing to pay a premium for a desk or office nestled among startups and some mature companies.
Price depends on location. In the company's Financial District headquarters, it charges $400 a month for a desk and $1,400 a month for a small two-person office, well above the area's rate for such space.
News Corp , which owns The Wall Street Journal, is a customer.
Israeli-born Mr. Neumann looks more like one of his startup tenants than a traditional landlord. He has shoulder-length wavy hair, shuns a tie and keeps the top two buttons of his shirt undone.
His office, in a WeWork hub in New York City's financial district, stocks an array of liquor, and he sometimes implores guests to do tequila shots, visitors to his office say. Unlike Airbnb and Uber, WeWork has a large fixed expense— rent paid to building owners— and the company may be as vulnerable in a downturn as any other co-working firm, said skeptics.
The business is a risky one in which its costs, fees paid to landlords, are fixed, but its revenues from startups and established businesses can fall quickly when the economy slows.
"The small-to-medium-size businesses, they get particularly impacted in a recession," said Jon Halpern, who ran shared office space firm HQ Global Workplaces in the early 2000s.
HQ grew rapidly in the run-up to the dot-com bust. But in the recession that followed, its value plummeted. It ultimately sold itself to Regus.
As for his company's next steps, Mr. Neumann said he is focused on growing the business. He plans to expand WeWork from its current 23 locations to 60 in the next year.
Landlords who have discussed the matter with WeWork executives say they have said it is planning an initial public offering sometime in the next two or three years.